2021 Award Honoree: Craig Hospital
Craig Hospital is a world-renowned, premier center for specialty rehabilitation and research for people with spinal injury and brain injury. Craig has a remarkable atmosphere and culture that is casual but professional, active and upbeat. Craig is a 93-bed inpatient/outpatient, nonprofit hospital that offers acute, short and long-term care, based in Englewood, Colo.
Art is an important part of Craig's rehabilitation programs. It is part of its patient-centered care that promotes confidence, independence and overall well-being. Craig utilizes painting, music therapy, theatre, ceramics and photography, to name a few. Patients not only learn how to enjoy their favorite activities, but also how to adapt equipment to meet new physical or cognitive needs. Art enables patients to express themselves, perhaps in ways they haven't able to before, and tell their own stories.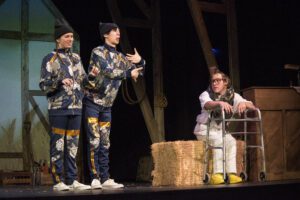 In 2018, Craig Hospital announced a three-year partnership with Phamaly Theatre Company. Phamaly is an award-winning Colorado-based theatre company that engages audiences in thinking about diversity, inclusion and disability through the lens of professional theatre. Phamaly Theatre is comprised entirely of performers with disabilities and is known for reinventing classic stories and creating moving experiences. Through this partnership, Craig Hospital sponsors the production of the organization's performances. Craig patients also have the opportunity to attend outings to see Phamaly Theatre's performances. In addition, Phamaly also brings acting theatre programs to Craig, which help provide opportunities for participants to tell their stories, set goals, solve problems and adapt to new life circumstances.
Through the arts, Craig Hospital empowers patients and their caregivers to express themselves, connect in new ways and reimagine their future.
Learn more at craighospital.org