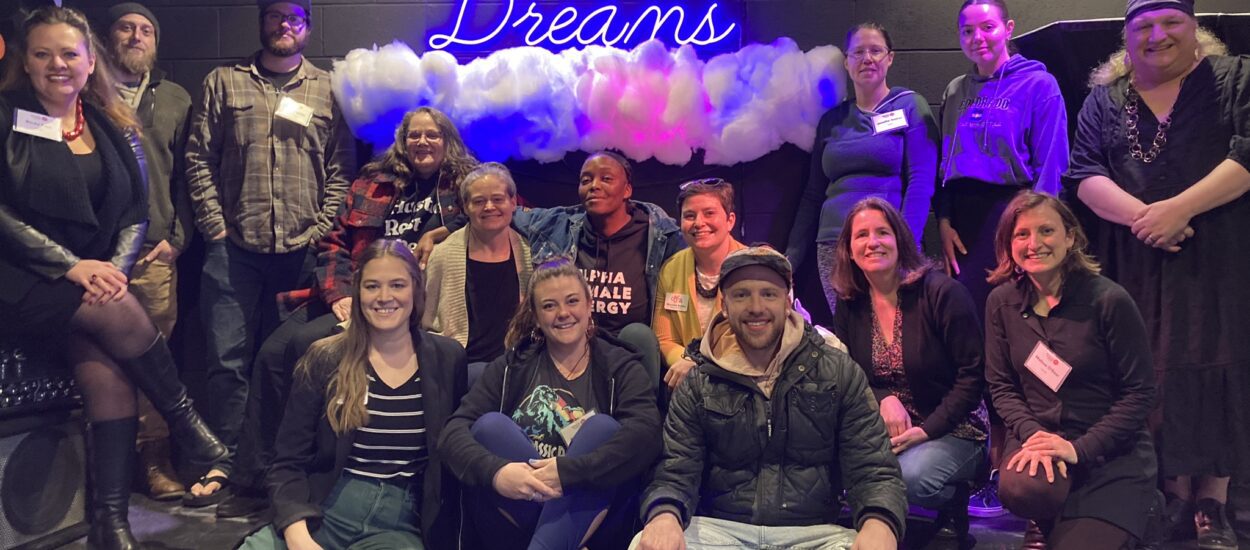 Advancing Creatives is CBCA's artist professional development and business skills education programming. Through Advancing Creatives, CBCA hosts, coordinates and partners with speakers and organizations to build the entrepreneurial skills, business know-how and professional capacity of Colorado's creative workforce.
Check out upcoming events for future opportunities and CBCA's resource library for recordings of past workshops.
Advancing Creatives Intensive (ACI)
Creative workers and small businesses are the powerhouse behind Colorado's economy and community development. Every artist, regardless of discipline, has their own definition of success for their creative work. It takes a combination of business savvy, focus, investment and a community of support to achieve that vision.
Launched April 2022, the Advancing Creatives Intensive (ACI) is designed to be a launch pad for creative professionals and entrepreneurs who want to articulate and take practical steps to achieve their business goals.
ACI is focused on tangible business growth and planning for artistic careers, as well as building business skills like marketing and financial management. The cohort-based approach incorporates peer learning, networking and accountability. The Intensive will enable artists of all kinds to see their work through an entrepreneurial lens and employ tools to organize, plan and sustain their creative career.
Advancing Creatives Intensive (ACI) 2023: Denver Metro
The ACI 2023: Denver Metro program is a six-session program from April – June 2023, hosted at Arapahoe Community College's Art & Design Center in Littleton, CO.
ACI 2023: Denver Metro is ideal for artists of all disciplines who are emerging in their creative career and arts business. Topics include goal setting and business planning, branding and marketing, legal issues and financial management. The program incorporates various speakers, practical exercises, toolkits and networking activities.
By completing the Intensive, participants will be eligible to apply for a limited number of Career Advancement Grants, supported by Colorado Creative Industries, up to $500 to further their ongoing arts business.
This program is possible thanks to support from Colorado Creative Industries, Kenneth King Foundation, Telluray Foundation, Meow Wolf Denver, Ent Credit Union and Arapahoe Community College.
ACI 2023: Denver Metro Applications are open now! All application materials are due by end-of-day Friday, March 24.
APPLICANTS SHOULD BE:
Residents of Colorado who are able to attend all in-person ACI sessions in the Denver metro area
Practicing artists who are currently working professionally and/or are looking to make their creative endeavors into a business venture. ACI is ideal for artists who are emerging in their creative career and arts business
Working in the creative industries, including visual arts, music, theatre, dance, design, fashion, film/TV, literary arts, crafts and creative placemaking
Willing to participate in ongoing program evaluation to assess the short- and long-term impact of the Intensive
CBCA will prioritize an Advancing Creatives Intensive cohort that includes diverse creative practices, expressions and backgrounds in Colorado. The ideal cohort size is 20-25 people.
TIME COMMITMENT AND EXPECTATIONS
Sessions will be held twice a month on Monday evenings in April, May and June. Schedule is subject to change. The current schedule is:
April 17 from 5:30 – 8:00 pm
April 24 from 5:30 – 8:00 pm
May 15 from 5:30 – 8:00 pm
May 22 from 5:30 – 8:00 pm
June 12 from 5:30 – 8:00 pm
June 26 from 5:30 – 8:00 pm
All sessions will be hosted at Arapahoe Community College (ACC)'s Art & Design Center, 2400 W Alamo Ave in downtown Littleton. A light dinner will be provided at each session. There will not be a virtual or hybrid option. There will also be informal cohort meet-ups and homework assignments in between sessions to help maximize the impact of the program.
PROGRAM FEES
Tuition for this Advancing Creatives Intensive (ACI 2023: Denver Metro) is $250 per participant.
Tuition covers all associated program materials and a light dinner at each session. CBCA offers flexible payment plans. Partial scholarships are available. If you are interested in applying for a partial scholarship, please contact Meredith Badler at mbadler@cbca.org in advance of the application deadline on March 24.
Past Advancing Creatives Intensives
ACI 2022: Denver Metro
ACI 2023: Colorado Springs
Tools for the Creative Life – Keeping Your Books Clean When Art is Messy: Tax & Accounting Basics for Artists
Led by Kaleigh Canavan, EA with CSA Accounting
How to Price Your Artwork
Speakers: Samantha Johnston, Colorado Photographic Arts Center; Doug Kacena, K Contemporary; Chris Roth, CR Projects
Managing Cash Flow and Finances in Uncertain Times
Speaker: Rebecca Kelley, Plante Moran; Melissa Armstrong, Plante Moran