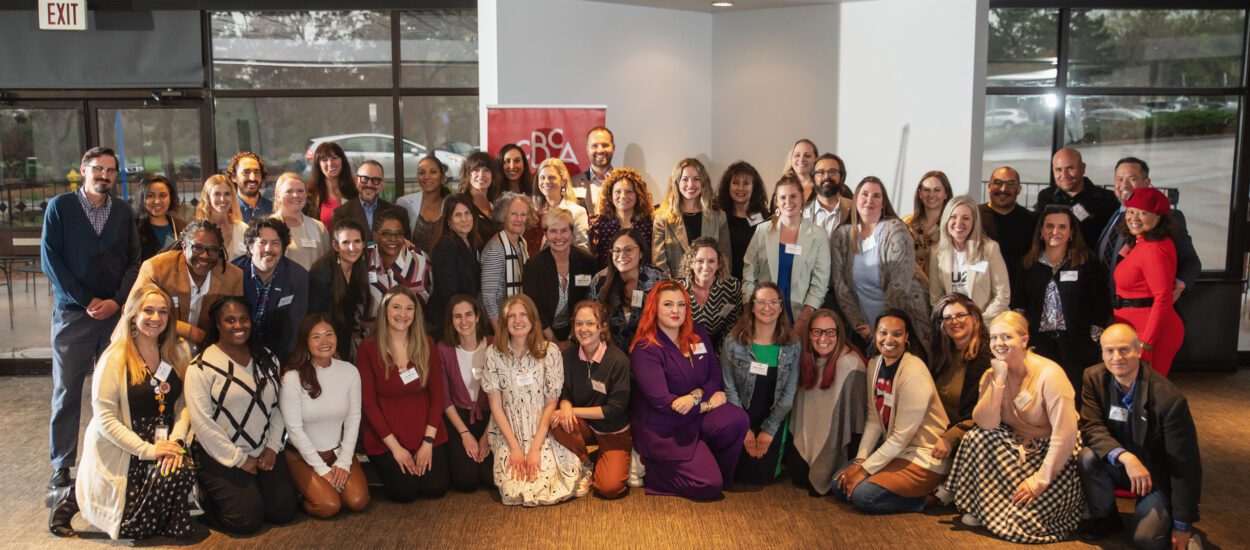 Be Part of Leadership Arts
For over 25 years, CBCA has built a pipeline of leaders in the arts through Leadership Arts. This unique nine-month program prepares people to serve on nonprofit boards of directors and increase their civic engagement in the arts. The Leadership Arts curriculum focuses on building the necessary skills to be an effective volunteer leader and exploring relevant topics in Colorado's arts sector.
Applications for Leadership Arts 2023-2024 are now closed. Applications for Leadership Arts 2024-2025 will open in June 2024. Contact main@cbca.org for more information. 
Make an Impact
Be part of Leadership Arts and make an impact.
Learn the ins and outs of nonprofit board service
Connect with professionals from a variety of industries and backgrounds
Sharpen your leadership skills and build confidence
Become a more engaged and effective arts advocate
Leverage applicable business skills in a new way
Network with like-minded individuals
Make a difference in our cultural community
Network and Engage
Each cohort comprises a diverse mix of personal and professional backgrounds. They range in industry sector, career level and experience, but all share an interest in the arts and civic engagement.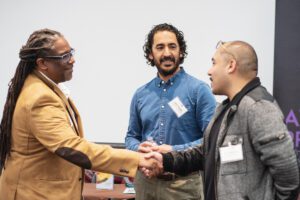 There are over 1,000 Leadership Arts graduates, many of whom continue to serve in our cultural sector.
What to Expect for Leadership Arts 2023-2024
From September 2023 through May 2024, the Leadership Arts cohort will gather to learn, discuss and engage with topics relevant to volunteer service, civic leadership and arts advocacy. The curriculum covers board governance, legal and fiscal stewardship, equity and inclusion, fundraising, advocacy, as well as current topics in the arts like social justice, healing and creative districts.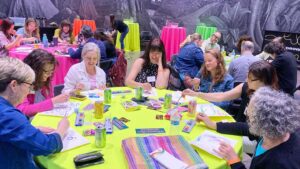 Interactive sessions are led by professionals in the field, consultants and community leaders, augmented with hands-on arts experiences, behind-the-scenes tours and engaging activities.
All 12 sessions will be hosted at various cultural venues and arts organizations across the Denver metro area. Check out the 2023-2024 Session Schedule.
Tuition
Tuition rates depend on CBCA Membership. CBCA Members receive substantial savings!
Tuition is $1,950 for CBCA Members and their employees. If three CBCA Member employees enroll, tuition is reduced to $1,700 per person.  Non-member tuition fees are $2,450.
Scholarships
The Deborah Jordy Leadership Arts Scholarship Fund provides a limited number of full and partial scholarships every year.
Leadership Arts is committed to ensuring that cultural nonprofits are led by diverse, effective and inspired board members.  We also strive to build an inclusive community of arts advocates. The Deborah Jordy Leadership Arts Scholarship is intended to recognize leadership potential, increase the financial accessibility of the program, and ensure a variety of perspectives and experiences in advancing arts and culture. Preference will be given to applicants from underrepresented and/or historically marginalized communities.
What People Are Saying About Leadership Arts
"Attending CBCA Leadership Arts was a pivotal moment in my life and career.  Before Leadership Arts, I was looking for ways to get involved.  I would volunteer in my local community, but I knew there was a piece missing.  Growing up a dancer and having a strong passion for the arts, I knew I had to find a new way to embrace the arts without stepping on the stage and being the performer.  Leadership Arts has given me a new way to look at the arts, community and the relationship that is built between the two.  I would not have been given the education, confidence, networking opportunities or new experiences if it wasn't for the stage Leadership Arts provided.  I am forever grateful for this opportunity and I know the skills I developed because of this program, will be used in years to come. " – Mariah Gayheart, Sr. BU Risk and Controls Analyst, TIAA
"Leadership Arts was a wonderful experience, the topics covered are comprehensive for anyone interested in leadership within the arts sector. I expanded my understanding of the local creative community and made some lifelong friends in my cohort. I can't say enough how impactful this program is for folks looking to take the next step in serving their community." – Jasmine Chu, Arts Coordinator, Children's Hospital Colorado
"Leadership Arts taught me more about the arts community in Denver, prepared me to be a more effective arts advocate, and importantly gave me the confidence and skills to serve on a nonprofit board. I currently serve on the board of Athena Project Arts, a nonprofit dedicated to empowering women and girls in the arts, and I helped found and now serve of the board of Union Hall, a cultural community partner aiming to advance opportunities for emerging artists and creatives. As a board member, I have been able to leverage my business skills to help support these organizations and I have also had the opportunity to meet some amazing members of the cultural community in Denver." – Katie Blum, Director, Acquisitions, East West Partners
"Leadership Arts was an amazing program. I met so many interesting and diverse professionals, many of whom I've stayed connected with after the program.  It gave me a better understanding of Denver's arts and music scene. It also introduced me to many nonprofit cultural spaces in our community." – Thanh Nguyen, VP Private Wealth Banker, BOK Financial
"I recommend CBCA's Leadership Arts program as a way to familiarize yourself with both board responsibilities as well as the broader arts community in Colorado. Serving on a board offers an opportunity to view organizations and organizational activity from a different perspective; those experiences can enhance your business skills and effectiveness at influencing outcomes throughout your career. By serving on the board of an arts organization, you can also contribute to the community at large and connect with other people who share your values and interests." – John Walthier, VP Treasury Operations, Prologis
"After going through Leadership Arts, I feel prepared to serve on boards, excel in my career, and be a more engaged member of my community. The arts are vital to society's well-being, and it's great to have a program that educates a diverse group of people on how to be better advocates for organizations that bring so much joy, healing and enrichment." – Clara Shelton, Marketing Coordinator/Copywriter, Colorado Public Radio
"I thoroughly enjoyed the structure of the Leadership Arts program and came out of it feeling much more prepared to take on a role on a nonprofit arts board. As a result, I've joined two boards and feel that I will be able to make a meaningful impact on both of these organizations. I look forward to engaging much more deeply into the Denver arts scene through these organizations.  Thanks again for offering such a great program to train us, but also connect us directly with such great organizations through the Board fair." – Steve Birchfield, EVP & Chief Financial Officer, Summit Utilities