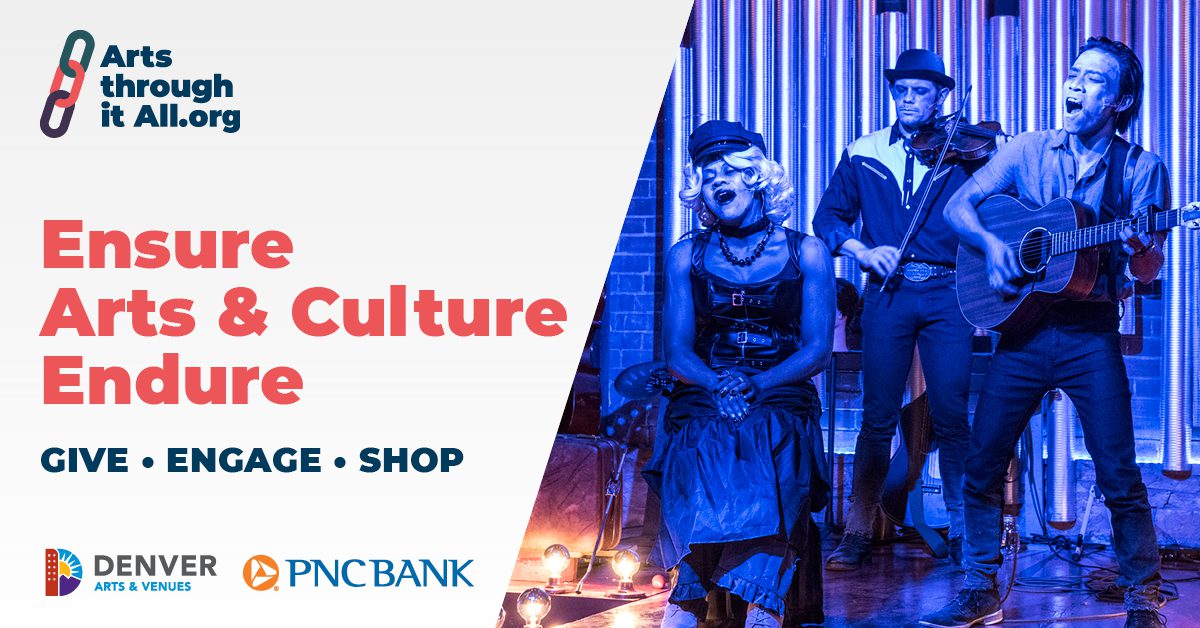 Support the Arts
If you want to give a gift that really counts, give a gift of (and to) the arts. 
The pandemic and economic recession continue to have a disproportionate and devastating effect on the local creative sector. Until our local artists & organizations can get back on their feet, they need your support to endure.
The values we support today will determine what we have when this is over.
GIVE a donation to local organizations & relief funds
Support your favorite museum. Donate to a local theatre or dance company. Ensure culture heritage and education lives on. Bring music to your community!
The Scientific and Cultural Facilities District (SCFD) has a list of nearly 300 arts and culture organizations in the seven-county metro region. You can donate directly to any of these nonprofit organizations who need your support right now. You can also search for arts & culture organizations through Colorado Gives.
ENGAGE safely with arts & culture experiences
Many arts and cultural organizations are reopening with safety protocols in place. In addition, several local cultural organizations have generously made the arts accessible throughout the pandemic with lots of free virtual programming. They all need your continued support through tickets, admissions, subscriptions and classes. Check out your favorite theatre, history museum, dance company, musical group, singing ensemble, art exhibit, film center, writing workshop or more to see what they have coming up!
SHOP local and support artists through goods, memberships, and classes
There are many ways to shop local and support the arts. Look for your unique, artisan-made goods at local gift shops and art markets and think about a membership, subscription or class has great gifts that last!
Museum gift stores offer unique one-of-a-kind gifts, including items made by local artisans, that also support the cultural institution. Many metro area gift shops have expanded their online shops since the start of the pandemic. Some of the museum's gift stores are also open to in-person shopping with limited capacity and/or timed reservations.
Shop at one of Denver and Colorado's Certified Creative Districts. With 30 creative districts in the state, each creative district, whether urban or rural, is distinct with its own local flavor, offering shoppers unique finds and one-of-a-kind gifts crafted by local artisans.
Finally, instead of big box shopping this year, live local and shop at your favorite neighborhood boutique or small business retailers, many who buy local and support local artists and creatives.
This guide contains all the tools you need to use this campaign in your own communications and outreach efforts — a graphic image and message that is available in multiple formats for websites, e-blasts, and social media. We have also provided an array of images you can drop into the campaign. Feel free to use one or a series to keep your communications fresh. We also invite you to incorporate a rights-managed image from your own organization, if you prefer.
If you would like to generate donations for your organization specifically, please use a link to your own website/donation portal as part of this campaign. If you would like to direct your audiences to a broader platform for more information, then please include the link artsthroughitall.org, which is managed by CBCA.
Either way, you'll be guiding patrons on how they can support arts and culture during this challenging time. This downloadable toolkit contains all you need to join this campaign, and deliver the important message that the arts are there for us, through it all.
Inside the ZIP folder you'll find:
Campaign Brand Guidelines PDF
Font (Montserrat)
Campaign-branded images for social media posts
Campaign logos
Messaging document
Download Full Toolkit (ZIP folder)