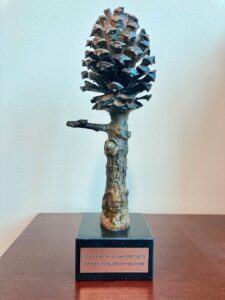 Every year, CBCA commissions a Colorado artist to create an original piece of artwork to present as an award. All 12 of the 2021 Business for the Arts Award Honorees received a one-of-a-kind bronze sculpture by Yoshitomo Saito. Each sculpture is entirely unique with a different bronze-cast pinecone on the top. The design plays on Yoshi's signature style, inspired by nature and abstract expression.
The 2021 Award Artwork is sponsored by HealthONE
About the Artist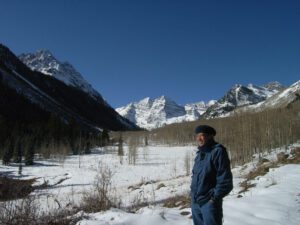 Yoshitomo Saito was born in 1958 in Tokyo, Japan. After finishing his liberal arts college work and some professional training in glassblowing, Saito came to the United States to study glass art at the Penland School of Crafts in North Carolina. He then relocated to the Bay Area in 1983 to attend the California College of the Arts in Oakland. At CCA, he studied glass under Marvin Lipofsky and sculpture under Dennis Leon and Linda Fleming. It was during this period that he began using bronze. Saito received his Master of Fine Arts degree in Sculpture with High Distinction in 1987.
Immediately after graduation, Saito began exhibiting his work at some leading contemporary art showcases in San Francisco receiving critical acclaims. Saito won the Visual Artists Fellowship Grant from the National Endowment for the Arts in 1994. And his bronze sculpture is included in many prestigious collections in the Bay Area such as the M.H. de Young Museum in Golden Gate Park, Asian Art Museum of San Francisco and the City of Oakland Museum of California. He also taught sculpture at California State University Hayward for 11 years.
Saito moved to Colorado in 2006 to pursue the lifestyle of fully engaged independent artist. He has been actively operating his private studio foundry at the Ironton Studios of RiNo Art District in the City of Denver. Learn more at yoshitomosaito.com