2021 Award Honoree: Jack's Solar Garden
Jack's Solar Garden is a family-owned social enterprise in Longmont, Colo. Through their partnerships with the National Renewable Energy Laboratory, Colorado State University and the University of Arizona, Jack's Solar Garden will put valuable research into the public sphere on co-locating solar panels with agriculture – called agrivoltaics. Partnering with Sprout City Farms will enable Jack's Solar Garden to begin cultivating crops to put back into the community while training young farmers on agrivoltaic techniques. With innovation and openness, they hope to inspire people to support local farmers as they embark on creative paths to better the community with locally produced foods and solar power.
Jack's Solar Garden is a true community solar garden, where they stress the community side.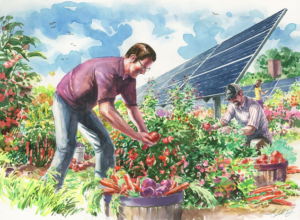 The arts can inspire us to achieve more and help illustrate a visions for the future. To this end, Jack's Solar Garden hired Jeff Slemons to illustrate their visions years before it was built so that folks could imagine the work they could do if given the resources to accomplish it. Jeff's watercolors did an amazing job of conveying the spirit of Jack's Solar Garden's vision and the activities they intended to undertake on the land for decades to come.
Furthermore, Jack's Solar Garden started an Artist on the Farm residency program for spring through fall where an artist each year can inspire the community  and showcase their collective work . In 2020, Rachael Scala was the very first Artist on the Farm. Jack's Solar Garden provided her with a stipend, access to the farm, and she created fun works of art repurposing old farm tools and new pictures of the land into beautiful pieces of art. Rachel also hosted a community event for locals to experience the land and make art together. The Artist on the Farm will continue with a new resident artist each year.
Jack's Solar Garden looks forward to engaging other community groups interested in an innovative venue for showcasing both their talent and the work they're seeking to accomplish on the land.  Jack's Solar Garden is an extraordinary example of the sustainable and limitless power of collective imagination and collaboration.
Learn more at jackssolargarden.com