2021 EY Next Wave Leadership Award

The EY Next Wave Leadership Award honors a rising professional who is leading the future of our cultural community.
---

Jose "Chepe" Rosales
José is a trailblazing sign of the times in the arts community – pivoting and embracing our new digital world through collaborations and his love for all styles of dance. His entrepreneurial drive and infectious spirit are making waves in Colorado's performing arts landscape.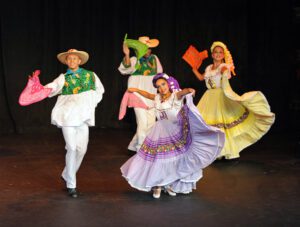 An arts and social advocate, his background as a product of dance legend and 2021 John Madden, Jr. Leadership Award Honoree Jeanette Trujillo-Lucero (founder, Fiesta Colorado Dance Company) has guided his vision to wear many hats in our community. His father is a native of Mexico and his mother is a native of Colorado, which has enabled him to be an avid cultural ambassador, while proudly serving the LGBTQ and immigrant communities.
After graduating from CU Boulder, he spent five years performing as a principal soloist with the Ballet Folklórico de Mexico in Mexico City. He is the only American and only LGBTQ member to have held the coveted position of the soloist Deer Dancer, where he toured and performed on international stages from North America to Europe. Upon returning to Denver, he suffered a severe dance injury, got engaged to his now husband and achieved a Masters in nonprofit development and program management with an emphasis on art. He also currently serves on the Denver County Cultural Commission, administered Tier III SCFD grants.
In 2020, in the midst of a global pandemic, he launched his company, ArtistiCO, which produces a mix of virtual and in-person collaborative dance performances, classes and education that bring a cadre of international dance artists to audiences from Denver to Mexico City, and everything in between. Additionally, he has collaborated with local dance, visual and technical artists for unique dance and cultural programming with the Colorado Symphony Orchestra, Latin Fashion Week, Colorado Day of the Dead Festival, Univision, Mexican Cultural Center and the Newman Center for the Performing Arts at the University of Denver and more.
Through these community partnerships, his vision has embraced on new way to connect, bringing a fresh spirit and perspective to the Colorado cultural arts community, truly meeting people where they are. Through his embrace of technology as a connector that's not going away, he has closed a pivotal gap in the arts community that has bridged an older generation to the millennials in a way that brings the arts close to home. It's now attainable and available, and enhanced by Jose's unique spin of culture, history and innovation.
Learn more about ArtistiCO
Take a bow for adding a bit of spice to the everyday. Culture nurtures the spirit and the community. At EY, we applaud the Colorado Business Committee for the Arts, because we believe the arts are not an afterthought. They are the foundation for a richer life.