Tools for the Creative Life: The Sh*t They Should Have Taught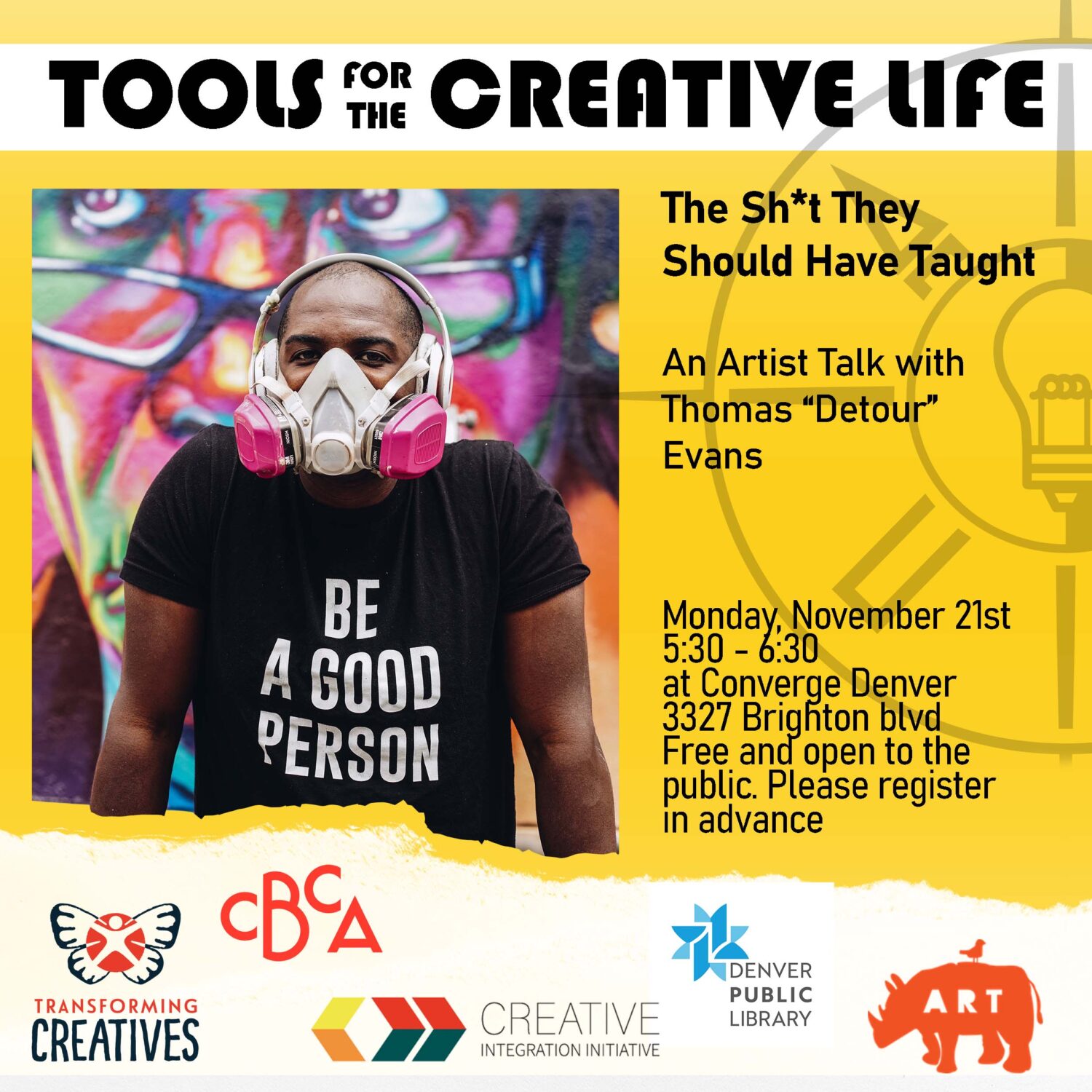 In this month's Tools for the Creative Life, renowned Denver artist Detour talks about his journey in being a full-time artist and the lessons learned through trial and error. This Talk/Discussion will hit on issues that artists seldom talk about but really want to tackle to grow their career.
This artist talk is free and open to the public. The first ten registrants will get a free signed copy of Detour's book Be The Artist.
About Detour:
Thomas Evans, a.k.a. Detour, is an all-around creative specializing in large scale public art, interactive visuals, portraiture, immersive spaces, and creative directing. His focus is to create work where art and innovation meet. A born collaborator and "military brat," Detour pulls from every conceivable experience that shapes his landscapes and perspectives. Explaining Detour's work is no easy task, as ongoing experimentations in visual art, music, and interactive technologies have his practice continually expanding. With his ever-evolving approach to art, Detour's focus is on expanding customary views of creativity and challenging fine-art paradigms by mixing traditional mediums with new approaches—all the while opening up the creative process from that of a singular artist, to one that thrives on multi-layered collaboration and viewer participation.
This event is part of the Tools for the Creative Life series aimed at providing creatives with connection, new skills, inspirational capital and tools to craft a healthy creative ecosystem. Presented in partnership with the RiNo Art District, Transforming Creatives, CBCA, Denver Public Library, and the Creative Integration Initiative.