Tools for the Creative Life: Let's Ménage: A Networking Cabaret with Fruits of Our Labor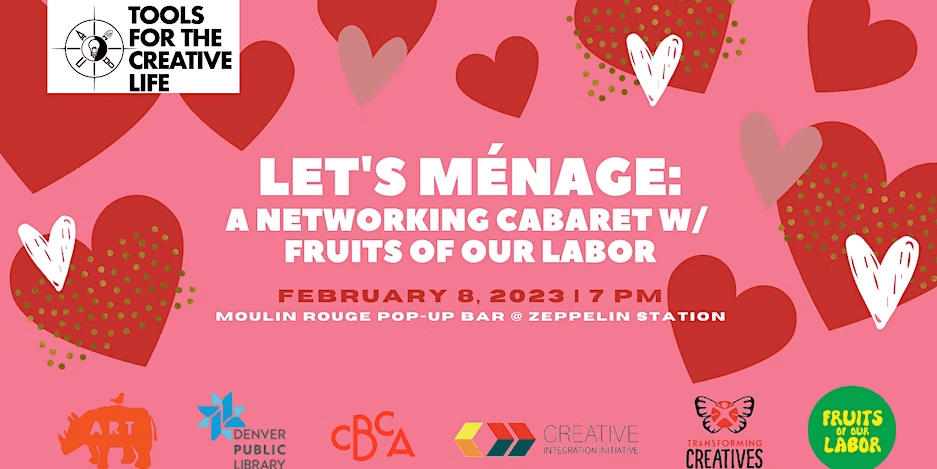 Join Tools for the Creative Life and Fruits of Our Labor for an unexpected evening of connecting & creating with your community. After entering the "Moulin Rouge" you will be given a new cabaret stage name for the night. What better way to break the proverbial ice than with some saucy pseudonyms? Grab a thematic drink at the bar while we wait for all the guests to arrive. Then the real fun begins.
❤️ 3 rounds of speed date like networking, where Tara and Jes from Fruits of Our Labor will facilitate spirited conversations
❤️ Create a provocative art piece, only you can ASSemble.
❤️ All supplies, instruction, and puns provided.
❤️ Space is limited
❤️ Don't forget your business cards!
ABOUT FRUITS OF OUR LABOR: Hi, we're Jes and Tara. We create DIY workshops and experiences that focus on process not perfection. We make messes, happy mistakes and FUN. Attending a Fruits of Our Labor activation will wake up parts of your brain you forgot existed. That fizzy, tingling feeling that you are getting in the back of your skull? That's the dopamine being released while you let go, and make for the sake of making.
In past lives we were art directors, educators, servers, retail managers, event planners and caretakers. All that experience has brought us here, as business owners and creative facilitators. We believe everyone is a "creative" and….. there can never be enough sparkle. Having fun is about so much more than "having fun". It's therapy, it's nature's antidepressant, it's moving through a complicated emotion when needed. Humans are designed to have fun and make stuff. Fruits of Our Labor was designed to manifest the space to do so.
Tools for the Creative Life is a collaborative series presented by CBCA, RiNo Art District, Transforming Creatives, CBCA, Denver Public Library, and the Creative Integration Initiative.