Cultural Organizations Collaborate to Launch "Arts through it All" Campaign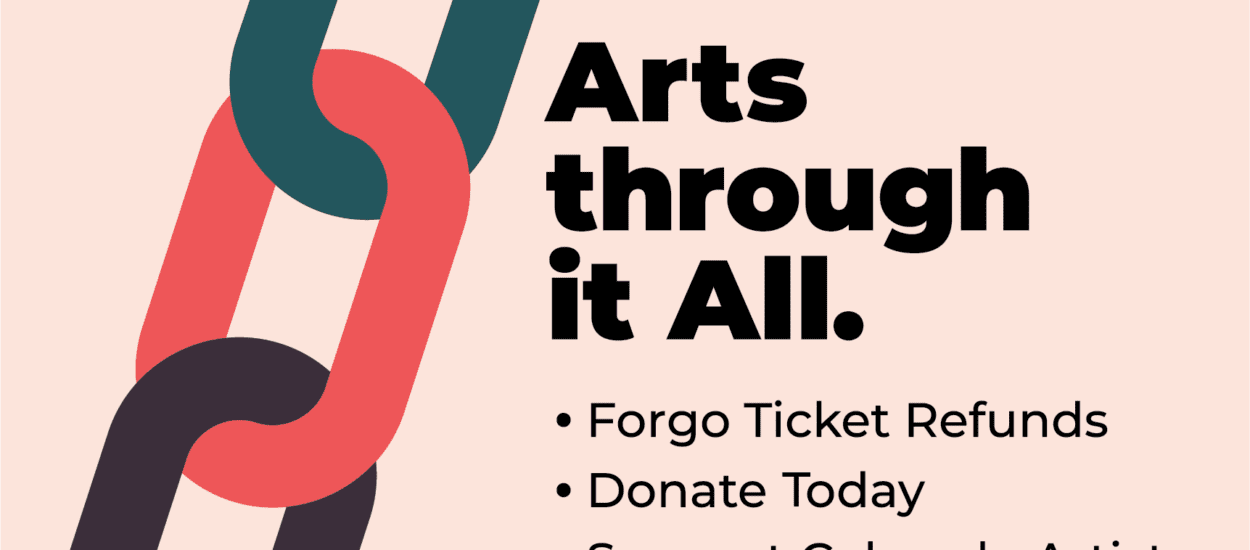 A new public awareness campaign, Arts through it All, launched today. The advocacy campaign is designed to educate and inspire arts and culture enthusiasts and the general public on how best to support the creative sector during the COVID-19 pandemic.
Arts through it All is a result of collaborative efforts amongst a coalition of the state's leading arts and cultural organizations, including Bonfils-Stanton Foundation,  Colorado Business Committee for the Arts (CBCA), Colorado Creative Industries (CCI), Scientific & Cultural Facilities District (SCFD), and several local and regional arts agencies, including Denver Arts & Venues, City of Boulder Office of Arts and Culture, the Cultural Office of the Pikes Peak Region (COPPeR), and others.
The Arts through it All campaign was created to provide simple, powerful and consistent messaging, with a focus on three primary messages: Forgo Ticket Refunds, Donate Today and Support Colorado Artists. The bilingual campaign is available in English and Spanish. Denver-based marketing and branding agency, Launch, graciously donated their services to design the campaign and create a downloadable and customizable brand style guide and toolkit.
"Arts and culture strengthen the quality of life in Colorado, and the creative sector has taken a major hit as a result of this pandemic," said Deborah Jordy, SCFD Executive Director, who was appointed last month to Colorado Governor Jared Polis' Economic Stabilization and Growth Council in response to COVID-19.
"Although there are various relief funds and efforts targeted at individual artists, creative businesses and nonprofit cultural organizations, there's more we can do to help the sector sustain and rebuild. It starts with personal choices, such as not asking for a ticket refund and turning it into a donation instead," said Christin Crampton Day, CBCA Executive Director.
The campaign toolkit, available at artsthroughitall.org, can be used by any Colorado arts organization, as well as other cultural, civic, business and community partners in their own communications and outreach efforts. It includes a graphic image and message that is available in multiple formats for web sites, e-blasts, and social media, along with a variety of photo images to keep the campaign fresh. In addition, arts organizations are invited to customize the graphic by incorporating a rights-managed image from their own organization, if preferred.
Donations can be made to the Colorado Artist Relief Fund through artsthroughitall.org, and arts organizations have the option to use a link to their own website and donation portal as part of this advocacy campaign. The Arts through it All campaign is hosted on CBCA.org, Colorado Business Committee for the Arts' website. In addition, CBCA has compiled a diverse list of virtual arts experiences offered by Colorado artists and cultural organizations to keep the public engaged creatively, accessible at artsthroughitall.org .
"The goal of the Arts through it All campaign is to encourage Coloradans to take action and do what they can to make a difference in supporting arts and culture in the state at a time it is needed most," stated Tariana Navas-Nieves, Director of Cultural Affairs, Denver Arts & Venues. "Artists will create no matter the circumstances, they will continue to offer hope and they will inspire us as we recover. Through it all, artists and organizations will be present for the community and I hope we show up for them."
"Bonfils-Stanton Foundation is pleased to partner with colleagues in developing and promoting this messaging campaign," said Gary Steuer, the Foundation's President and CEO. "As a major funder of the arts we will do all we can to help, but there is much that every lover of the arts can do to help in this crisis, which is the message of this campaign."