2017 Business for the Arts Awards Winners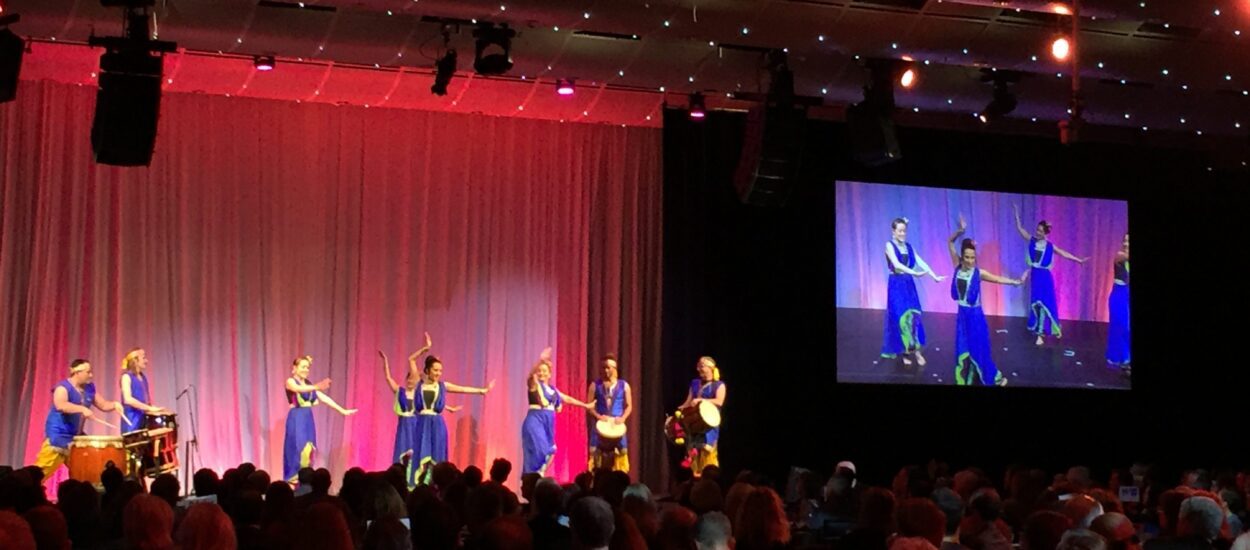 CBCA announced the winners of the 2017 Business for the Arts Awards at the 30th annual statewide luncheon on March 15. This signature event honored companies and individuals for their exemplary partnerships and engagement with the arts to a sold-out crowd of 700 arts, business and civic leaders at the Seawell Ballroom.
"The social and financial impact of the arts on our region is significant. Today, we acknowledge businesses and individuals who work to support this thriving sector of the Colorado economy," said Christin Crampton Day, Executive Director of CBCA. "The winners and finalists demonstrate a strong commitment to philanthropy and service. Their work inspires and supports the arts and cultural community of our state and we thank them. Our lives, communities, and businesses are richer and stronger when they're integrated with the arts, as shown by these organizations and individuals we honor here today."
Guests enjoyed welcome entertainment from: Viking enactors from Denver Museum of Nature & Science's (DMNS) current exhibit, Vikings: Beyond the Legend; Polar Bears from the Scientific & Cultural Facilities District (SCFD); and student musicians from El Mariachi Juvenil de Bryant Webster. Live performances from Denver Center for the Performing Arts and the Broadway touring production of An American in Paris, Buntport Theater Company, Denver Young Artists Orchestra and Mudra Dance Studio provided energetic entertainment during the event.
2017 Business for the Arts Awards Winners
These five winners were chosen from 14 finalists and announced during the luncheon:
Create Award acknowledges an outstanding, for-profit creative business that has made a significant impact on Colorado's creative economy
TRG Arts: Based in Colorado Springs, Colo., TRG Arts is an international management consulting firm that has helped numerous arts and culture institutions improve their financial health, grow audiences, train leaders, and increase their positive impact.
EY Next Wave Leadership Award honors rising professionals who are leading the future of our cultural community.
Jackson Stevens: As an active community volunteer, leader and musician, Jackson Stevens is an ambassador for the arts. He is making the arts more accessible and inviting for young professionals, particularly in his leadership role at Colorado Symphony's Remix.
Impact Award highlights the innovative use of the arts to propel business success, programs that engage employees with creativity and other community activities that support arts and business partnerships
Sage Hospitality: Dedicated to curating original artworks in all their hotels, including over 30 hotels in Colorado, Sage Hospitality provides opportunities for artists to thrive. This commitment has a positive impact on hotel guests, employees and local artists.
John Madden, Jr. Leadership Award recognizes a business sector individual who has made significant contributions to advancing arts and culture in Colorado
Tim Schultz: A passionate and visionary leader at the Boettcher Foundation for over 20 years, Tim Schultz has contributed to Colorado's Creative Districts program and Space to Create Colorado.  Tim champions the arts as a vehicle for economic and community vitality statewide.
Philanthropy Award honors exemplary corporate citizenship and generosity to arts and cultural projects and organizations
Noble Energy: Noble Energy has several partnerships with cultural organizations in Colorado. Noble Energy worked with Denver Center for the Performing Arts to bring theater professionals and engineers together for an innovative arts integration initiative in schools.
This year's winners received a CBCA PrintFolio, which includes four original prints by Colorado artists Theresa Haberkorn, Mark Lunning, Jim Milmoe and Tony Ortega.
The distinguished judging panel for the 2017 Business for the Arts Awards consisted of:
Wayne Barrett, Vice President & Market Officer, Prologis
Will Chan, Services to New Immigrants Program Administrator, Denver Public Library
Beth Johnson, Attorney, Moye White
Mary Lester, Director of Special Projects, PRV Family Office
CBCA thanks our generous sponsors who make this event possible. Corporate sponsors include EY, John Madden Company, Arrow Electronics, Arts Brookfield, Delta Dental of Colorado, Kaiser Permanente Colorado, Snell & Wilmer. Media and in-kind sponsors are CBS4, ColoradoBiz Magazine, Ligature Creative Group and The Publishing House.
2017 Business for the Arts Awards Finalists
Create Award
EY Next Wave Leadership Award
Kayvan S. T. Khalatbari
Jackson Stevens
Impact Award
John Madden, Jr. Leadership Award 
Merry Logan
Tim Schultz
Doug Tueller
Philanthropy Award