Can I Post This? Putting Creative Content Online with Pueblo Arts Alliance

In the last few years, there has been a surge of virtual creative content and arts experiences being offered online. Many artists, cultural organizations and venues are finding new ways to reach audiences and participants through digital platforms.
However… do you know if you have the rights to share that creative content on that distribution platform? Do you have the rights to play that song during your online dance class? Is it OK to re-post a recording of your past live theatre performance? How can you protect your photography when you share it online?
Join the Pueblo Arts Alliance and Colorado Attorneys for the Arts (CAFTA) for this workshop designed to answer questions and provide general guidance on putting creative content (recorded or live) on digital platforms, as well as provide a review of some basics of copyright law. This workshop will be led by Dave Ratner with the Creative Law Network.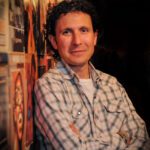 It isn't often that you run into a band manager turned lawyer. But that's Dave Ratner. During his career in the music and entertainment business as a tour manager, publicist, band manager and founder of his own management agency, Dave learned first-hand the important legal considerations and challenges creative professionals face – whether they're musicians, painters, poets, app developers, videographers, or any other creative professional.
Dave channeled his passion for music – and all creative arts – into Creative Law Network, a law firm built specifically for creative professionals. With a portfolio of clients who are not only traditional artists, but also creative individuals and entities, Dave advises both creative and general business clients on all aspects of intellectual property and business law.
Because Dave has walked in the shoes of his creative clients, Creative Law Network can help in non-traditional ways that specifically address your legal needs. As everyone at the firm likes to say, "our solutions are as creative as our clients."
Dave has been one of 5280's Top Lawyers for Entertainment Law since the magazine began publishing its list of top lawyers and been named both Client's Best and Barrister's Best Entertainment Lawyer by Law Week Colorado. Dave is a graduate of Cornell University and the University of Denver College of Law. He is an adjunct professor at the University of Denver College of Law, Chair of the Entertainment & Sports Section of the Colorado Bar Association, Advisory Committee Chair of Colorado Attorneys for the Arts, on the Board of Swallow Hill and the Center for Visual Art, and a graduate of both Leadership Denver and Leadership Arts.