Arts + Environmental Sustainability Forum
This Arts + Environmental Sustainability Forum will focus on the intersection of science, creativity and community action to foster awareness and engagement to combat climate change. We will explore how arts can spark vital conversations and bring communities together. How arts can tackle issues of environmental justice. How arts can change narratives and reimagine new futures. How arts can partner with business and civic leaders to achieve shared goals. How arts can stimulate real action.
Speakers:
Patrick Chandler, PhD, Art and science partnership researcher and educator
Chelsea Hackett, PhD, Executive Director, SPEAK and Education Director, Side by Side
Marda Kirn, Executive Director, EcoArts Connections
Ian Roche, West Slope Field Manager & COBA Program Lead, Conservation Colorado
Regan Rosburg, Associate Professor, Rocky Mountain College of Art + Design
Panel Moderator: Sam Brasch, Climate / Environment Reporter, Colorado Public Radio
Agenda:
5:00 pm Networking Reception, bar and food open, art galleries open
5:45 pm Opening Remarks
6:00 pm Panel Discussion, Q&A, Case Studies
7:00 pm Closing Remarks
7:15 pm Networking continues, desserts, art galleries and gardens open
8:00 pm Conclusion
In addition to engaging speakers and dialogue, the Forum will include a networking reception beer, wine, kombucha and delicious food. Guests will also be invited to explore the art galleries in the new Freyer – Newman Center at the Denver Botanic Gardens. On exhibit will be Ursula von Rydingsvard: The Contour of Feeling.
This event is part of CBCA's ongoing Arts + Industry Forum Series. A second Forum on Arts + Environmental Sustainability will be hosted on October 13 in Basalt at TACAW, the first net-zero performing arts facility in the country.
COVID REGULATIONS 
In order to protect your health and the health of our community, CBCA has implemented the following safety protocols, which will be updated periodically in accordance with CDC, state and local recommendations.
For standalone events, CBCA will follow the host venues' health and safety standards, maintain compliance with local and state mandates, and will encourage masking and social distancing to the extent possible. We appreciate your cooperation to respect and adhere to all COVID safety measures of our host venues and partners. Click HERE for more information on Denver Botanic Garden's policy.
If you have any questions on these policies, please contact CBCA at main@cbca.org.
PHOTOGRAPHY/VIDEO NOTICE
Photographs and/or video will be taken at this event. By taking part in this event, you consent to your image/likeness, voice, and/or name being used in photographs and/or film, and any reproductions or adaptations thereafter, by Colorado Business Committee for the Arts (CBCA) for utilization in any and all print and digital media in perpetuity. If you do not wish to be photographed and/or filmed, please contact CBCA at main@cbca.org.
Patrick Chandler, PhD
Art and science partnership researcher and educator
Patrick Chandler recently received a PhD in Environmental Studies from the University of Colorado, Boulder and has fifteen years' experience working in and developing environmental education, stewardship, and science programs. His current research focuses on the process of building and maintaining art and science partnerships with the goal of catalyzing community action on environmental and social justice issues. During his time at the University of Colorado, Patrick also served as a fellow and coordinator for the Climate Literacy and Energy Awareness Network and a researcher and board member for the Inland Ocean Coalition. Before beginning his PhD research, he worked as the Education Director for the Washed Ashore Project which raises awareness about marine debris through exhibits consisting of giant sculptures created from items found on the beach. Prior to joining the Washed Ashore team, Patrick spent five years in Alaska where he taught biology for Kenai Peninsula College, served as the International Coastal Cleanup Coordinator for Alaska, and worked as the Special Programs Coordinator for the Center for Alaskan Coastal Studies.
Chelsea Hackett PhD
Executive Director, SPEAK and Education Director, Side by Side
Chelsea Hackett PhD, is the co-founder and Executive Director of SPEAK, a non-profit that focuses on supporting young women in using their voices for self and civic advocacy. In addition, she is an interdisciplinary artist, researcher, and adjunct professor at the University of Colorado at Boulder. She completed her doctorate in Educational Theatre at New York University. Her current research focuses on the development of a program to "Create a Culture of Consent", working towards the prevention of sexual violence. In addition, she serves as the Director of Education for Side by Side, a interdisciplinary project for young women aimed at increasing a sense of belonging in STEM communities and in the natural world, with the long-term goal of co-authoring an equitable, survivable and thrivable future for all! She is passionate about using the power of the arts to create collective meaning and engage in critical conversations.
Marda Kirn
Executive Director, EcoArts Connections
Marda Kirn is the founding director of EcoArts Connections (EAC), which brings the arts together with science, social justice, Indigenous, and other ways of knowing to inspire people to live more sustainably – environmentally, economically, socially/culturally, and personally – and to find new roles for the arts in the fact of global change. EAC commissions, produces, and presents collaborative activities including performances, exhibits, talks, convenings, and other activities held in both traditional and non-traditional venues. EAC activities are based in Colorado, with special projects held nationally and sometimes internationally. Previous to EAC, Kirn was the founding director of the Colorado Dance Festival, which was considered one of the top three dance festivals in the US during her 14-year tenure, bringing artists to Colorado from across the country and the world. She was also a founder and former director of the International Tap Association. Kirn has written for various publications, received several awards, and has been a speaker, panelist, and/or consultant for organizations and entities on six continents.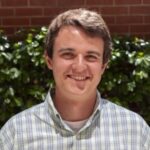 Ian Roche
West Slope Field Manager & COBA Program Lead, Conservation Colorado
Ian is the West Slope Field Manager and COBA Program Lead with Conservation Colorado, an organization that engages Coloradans from across the state to pass conservation-minded policy and elect conservation-minded leaders to office. All with the hope we can have clean air, conserved public lands, plenty of quality water, and healthier communities all through the lens of fighting for environmental justice. In his role as Colorado Outdoor Business Alliance (COBA) Program Lead he works with a coalition of about 300 businesses on Conservation Colorado's work. This program has done everything from lobby in Washington DC to host happy hours around Colorado all while pushing for smart, equitable, conservation policy. Ian started with Conservation Colorado in 2018 as the Grand Junction Field Organizer, responsible for the on the ground work in Western Colorado before assuming his current responsibilities in 2021.
Regan Rosburg
Associate Professor, Rocky Mountain College of Art + Design
Regan Rosburg (b. 1977) is an interdisciplinary artist who weaves together science, psychology, history, and social engagement. With a passion for studying various ecosystems and biota, her work investigates not only the exquisite intelligence of ecology but also the ramifications of overconsumption and climate change. Rosburg received her BFA from the University of Colorado at Boulder, and her MFA for the Lesley University College of Art and Design in Cambridge, MA. She has been a professional artist since 2006, with international exhibitions and recognition. Her work has been featured in the BBC, Yale University's "Order of Multitudes" project, One Resilient Earth, Elysian Magazine, Truthout, National Public Radio, and the International Journal for Civic Engagement and Social Change.
Sam Brasch
Climate / Environment Reporter, Colorado Public Radio
Sam Brasch covers climate and the environment for CPR News. Sam came to Colorado Public Radio in 2015 as the recipient of the organization's first news fellowship. The year-long position allowed him to hone his journalistic skills working alongside CPR reporters, producers and editors.
Following his fellowship, Sam was awarded an 11-Hour Food and Farming Journalism Fellowship from the University of California Berkeley where we worked with mentors like Michael Pollan to produce a radio documentary on kosher slaughter practices.
Sam rejoined Colorado Public Radio in 2016 as a contract reporter where he filled in for newscasts, reported on the state legislature and supported long-term feature stories and interviews for "Colorado Matters."
Before his career in broadcast journalism, Sam worked for Modern Farmer Magazine where he wrote articles on goat towers and lambie jammies, and promoted the magazine's work on social media.