35th Anniversary MIXTAPE Track #1
The opening night of CBCA's 35th anniversary celebration kicks off with visual art, a spoken word performance and a conversation with painter, muralist and performer, Armando Silva and Colorado Poet Laureate Bobby LeFebre. We'll go inside Armando's studio as he paints, demonstrates his creative process and discusses a piece you can bid on in CBCA's online art auction. Bobby will perform a piece of spoken word in response to Armando's work, and the two will discuss their reactions, their process, and what CBCA's 35th anniversary theme of "rewind, play and fast forward" means to them and how that manifested in their work.
Triple-threat, Three Musketeers, Three Tenors. You get the point. Three is better than one! During the first three Thursdays in November, there are three "totally tubular" opportunities to come together as a community to celebrate and support CBCA's 35th anniversary with MIXTAPE – a series of fun, entertaining virtual arts + business experiences with an '80s vibe. We'll be rewinding to CBCA's founding and history to honor the businesses, organizations, artists, partners and community leaders that have helped strengthen the cultural vitality of Colorado. Then we'll fast-forward to today and supporting CBCA's role as a critical centralized resource for the arts sector.
Thank you to our 35th Anniversary Host Committee!
Rob & Michelle Applegate, Randy & Mary Ann Hampton, Barry & Arlene Hirschfeld, Matt Keeney, Greg Laugero, Barbara Lewis, Radhika Mahanty, Bill Marino, Chris Ross & Ed Cannon, Denise Sanderson, Allison Scheck, Maren Stewart, David Thomson, Elaine Torres, Bobbi Walker, Dustin Whistler & Tamra Ward
For more information on sponsorship or to receive a customized proposal with benefits, contact Karlie McLaughlin at kmclaughlin@cbca.org.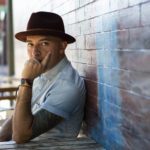 Bobby LeFebre
Colorado Poet Laureate, Writer, Performer, Cultural Worker
Bobby LeFebre is an award-winning writer, performer, and cultural worker fusing a non-traditional multi-hyphenated professional identity to imagine new realities, empower communities, advance arts and culture, and serve as an agent of provocation, transformation, equity and social change. His work has appeared in The New York Times, Huffington Post, The Guardian, American Theater Magazine, NPR, and Poets.Org. In 2019, LeFebre was named Colorado's 8th Poet Laureate, making him the youngest and first person of color to be appointed to the position in its 100 year history. LeFebre holds a bachelor's degree in Psychology from the Metropolitan University of Denver and a master's degree in Art, Literature and Culture from the University of Denver.
Photo Credit: Amanda Piela
is a painter, muralist, and performer who uses his artistic superpowers to tell powerful stories, build community, and inspire youth through art. As a recipient of a Governor's Creative Leadership award from Colorado Creative Industries in 2018 and CBCA's EY Next Wave Leadership Award in 2019, Armando has been celebrated for his collaborations with cities, non-profits, businesses, and educators across the state and beyond.
Armando was born in Sombrerete, Zacatecas, Mexico. At age 5, his family moved to Northern Colorado to pursue the American Dream, and Armando submerged himself into visual and performing arts as a way to communicate and find his identity as an ESL student. After developing his talents throughout high school, he decided to invest in them and received a BA in Fine Arts from The University of Northern Colorado.
Armando believes his artistic abilities come with the responsibility to lead, educate, and give back to the community. His artistic practice focuses on compelling portraits that tell personal stories, sometimes created on canvases in his studio, or other times created through live performance in front of thousands. Armando's large-scale mural installations give communities a way to communicate messages that can't always be said in words.
Armando currently lives in Greeley, Colorado and is deeply embedded in creative leadership throughout the community. He co-directs the Colorado Dance Collective, a non-profit adult dance company. His art studio space contributes to the revitalization of Downtown Greeley, and he serves on the Greeley Creative District board. Armando is on the Think360 artist roster, an agency that places working artists in schools for workshops, residencies, and performances.