CBCA Reforms Board Nominations Process to Align with Equity Goals and Welcomes Four New Board Members
The Colorado Business Committee for the Arts (CBCA) introduced a new board recruitment and nominations process in December 2022 with the goal of making the selection of board members more equitable and transparent. Consequently, the board recently elected four new board members at its February board meeting.
This new process results from CBCA's commitment and ongoing efforts to transform inequitable systems and prioritize this work throughout the organization's operations and programming. A summary of actions related to board elections taken thus far include:
In 2018, CBCA formed a task force to focus on diversity, equity, inclusivity and accessibility (DEI&A) guided by CBCA's core values and developing its first inclusivity statement. The task force evolved to the Equity, Inclusivity, Diversity & Accessibility (EIDA) Committee, which now meets monthly and guides CBCA in planning, implementation and goal setting.
One of the EIDA committee's priority recommendations was that CBCA focus its DEI&A work internally and revise its board nominations and recruitment process. As a first step, two years ago CBCA eliminated the give/get requirement that was common for nonprofit arts and cultural boards.
The new board recruitment and nominations process was developed with input from members of CBCA's EIDA Committee, Governance Committee, Executive Committee and staff. A Nominating Committee was formed with representatives from CBCA's community, membership and board.
CBCA publicly posted a call for board nominations from which it received 16 applications during this election cycle. Members of the nominating committee then interviewed the candidates and made a recommended slate to the board.
CBCA developed a demographic survey for its board members and recently surveyed its membership, to gain a better understanding of the composition of its board and member organizations from which to set future DEI&A goals.
Furthermore, in 2022, CBCA established a goal that a majority of CBCA board members be from historically marginalized communities, such as Black, Indigenous, Latinx and People of Color (BILPOC) and lesbian, gay, bisexual, transgender, queer (or questioning), intersex, and asexual (or allies, aromantic, or agender) (LGBTQIA). With the addition of the four newly elected board members, CBCA now has 26 board members from which 35% self-identify as some ethnicity or race other than or in addition to White and 15% self-identify as LGBTQIA, which combined represents 50% of the board's composition that identifies as representing these historically marginalized communities.
As an organization with a statewide mission, other board recruitment goals include attracting board members from beyond the Denver metro area representing other rural and urban areas in the state.
Please join CBCA in welcoming our four new Board of Directors members!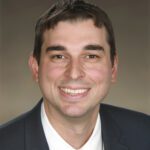 Andrew Leveque
VICE PRESIDENT OF HUMAN RESOURCES, PRESBYTERIAN ST. LUKE'S MEDICAL CENTER AND THE ROCKY MOUNTAIN HOSPITAL FOR CHILDREN
Andy Leveque is the current Vice President of Human Resources for Presbyterian St. Luke's Medical Center and the Rocky Mountain Hospital for Children where he has led the people strategy for the hospital over the last five years. During his tenure as Vice President the organization has accomplished gains in employee engagement, colleague belonging and inclusion scores, and reductions in turnover. He serves as a leader and advisor on the hospital's employee advisory group, community advisory council and the diversity, equity and inclusion committee.
Prior to his time at Presbyterian St. Luke's Medical Center and the Rocky Mountain Hospital for Children, Andy spent time as an HR leader for two other fortune 500 organizations in AmerisourceBergen and XPO Logistics. Andy holds a Bachelor's degree in Business Management from Texas State University and a Master's degree in Business Administration from the University of Texas-Arlington. He has also earned the Senior Professional in Human Resources (SPHR) designation from the Human Resources Certification Institute.
Andy observed the outpouring of community support to the hospital throughout the COVID-19 Pandemic and was inspired to get involved and give back. Andy has been engaged with the Colorado Business Committee for the Arts since the beginning of 2022, participating in various events and joining the governance committee. The opportunity to serve on the board mixes his passion for supporting the arts and desire to be connected and engaged in his community.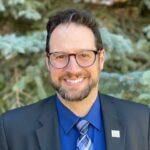 John Masserini
DEAN OF COLLEGE OF LETTERS, ARTS AND SCIENCES, METROPOLITAN STATE UNIVERSITY OF DENVER
John Masserini is an academic leader dedicated to providing higher education opportunities to anyone that seeks them, as higher education is the greatest proven catalyst for a life of substance, bringing with it social, economic, and career mobility. His work focuses on the symbiotic nature of academic and organizational efforts that lead to student success. He currently serves as the Dean of the College of Letters, Arts and Sciences at Metropolitan State University of Denver (MSU Denver).
Dr. Masserini's vision, leadership efforts, and daily work involve enabling academic units to demonstrate the interdisciplinary reality of the human experience to our students, through the lens of the humanities, arts, and sciences; cultivating equity-minded and inclusive practices throughout the college; investing in and supporting holistic student success structures at the university; and building strong connections between educational institutions and the communities for which they live and serve. With a specific focus on those that are historically minoritized and underserved, he looks to dismantle long-standing barriers in higher education by providing full access and support with academic excellence, graduating engaged and thoughtful citizens who pursue meaningful careers and full, productive lives.
Before his full-time focused work in university administration, John was a professor of music and an active performing clarinetist. He appeared at several international and national venues as a recitalist, concerto soloist, collaborative chamber musician, avant-garde performing artist, and theater musician for national Broadway tours. Notable past international invitations include the International Clarinet Association Conferences (ClarinetFest®) in 2003 (Salt Lake City, Utah), 2005 (Tokyo, Japan), 2006 (Atlanta, Georgia), 2009 (Porto, Portugal), 2012 (Lincoln, Nebraska), 2013 (Assisi, Italy), and 2015 (Madrid, Spain). His clarinet/saxophone duo Velocity2 [Velocity Squared] released the CD Flux under the Centaur Records label in 2014.
In addition to his more traditional work in the field, Masserini completed several grant-funded interdisciplinary performance projects with longtime collaborator Melanie Kloetzel, Professor of Dance at the University of Calgary. Their work combines music, dance/movement, and various forms of media. International and national invitations to showcase their interdisciplinary performance art works include the Congress on Research in Dance (CORD) 2011 Annual Conference: "Moving Music / Sounding Dance" (Philadelphia, Pennsylvania); Collision 2006: A Symposium on Interarts and Interdisciplinary Practices (Vancouver, British Columbia); and a main-stage appearance at the 2006 On the Boards – Northwest New Works Festival (Seattle, Washington).
Masserini holds the Doctor of Musical Arts (DMA) and Master of Music (MM) degrees in Music Performance (clarinet) from Michigan State University and a Bachelor of Music (BM) degree in Music Performance (clarinet) from the University of New Mexico.
Dave Ratner
MANAGING PARTNER, CREATIVE LAW NETWORK
It isn't often that you run into a band manager turned lawyer. But that's Dave Ratner. During his career in the music business as a tour manager, publicist, band manager and founder of his own management agency, Dave learned first-hand the important legal considerations and challenges creative professionals face. Dave channeled his passion for the creative arts into Creative Law Network, a law firm built specifically for creative professionals. As the principal of Creative Law Network he leads a team that is passionate about the arts, ensuring creative work is protected, and helping creatives leverage the law to maximize the value of their work.
Dave has been one of 5280's Top Lawyers for Entertainment Law since the magazine began publishing its list of top lawyers and been named both Client's Best and Barrister's Best Entertainment Lawyer by Law Week Colorado. Dave is a graduate of Cornell University and the University of Denver College of Law. He is an adjunct professor at the University of Denver College of Law, President of the Entertainment & Sports Section of the Colorado Bar Association, Advisory Committee Chair of Colorado Attorneys for the Arts, Vice Chair of the Board of Swallow Hill Music, Secretary of the Board of the Colorado Independent Venue Association, and a graduate of Leadership Denver (Denver Metro Chamber of Commerce) and Leadership Arts (Colorado Business Committee for the Arts).
Sam Somuri
INVESTMENT MARKET DIRECTOR, PNC INSTITUTIONAL ASSET MANAGEMENT® (PNC IAM)
As an investment market director for PNC Institutional Asset Management® (PNC IAM), Sam works exclusively to maintain strong and collaborative relationships with PNC IAM's largest OCIO clients, representing retirement, nonprofit, and corporate assets. Sam regularly provides thought leadership, education and insights to clients. He manages portfolios in accordance with applicable fiduciary standards and his client's investment objectives. He works with each client to determine an appropriate asset allocation based on their unique needs.
Prior to his current role, Sam was a senior portfolio manager with U.S. Bank where he was responsible for developing and implementing customized investment solutions for institutions and highly affluent clients. Before that role, he was previously with Allianz, Jackson, and Goldman Sachs in leadership roles.
Sam graduated with a Bachelor of Arts in economics from The University of California, Irvine and with a Global Master in Finance from IE Business School, Madrid. Sam holds the Chartered Financial Analyst®(CFA), Chartered Alternative Investment Analyst (CAIA), and Certified Financial Planner(CFP)TM designations. Sam is a former Board Member Minnesota CFA Society, a former Program Chair Minnesota CFA Society, and a former Member Allianz Life Board of Governors.
Anyone interested in exploring a board opportunity with CBCA can apply here on the CBCA Board of Directors Application webpage. Candidates will be reviewed and contacted by the CBCA Board Nominating Committee on a rolling basis as board positions become available.