CBCA Honors 12 Organizations and Individuals at 34th Annual Business for the Arts Awards Luncheon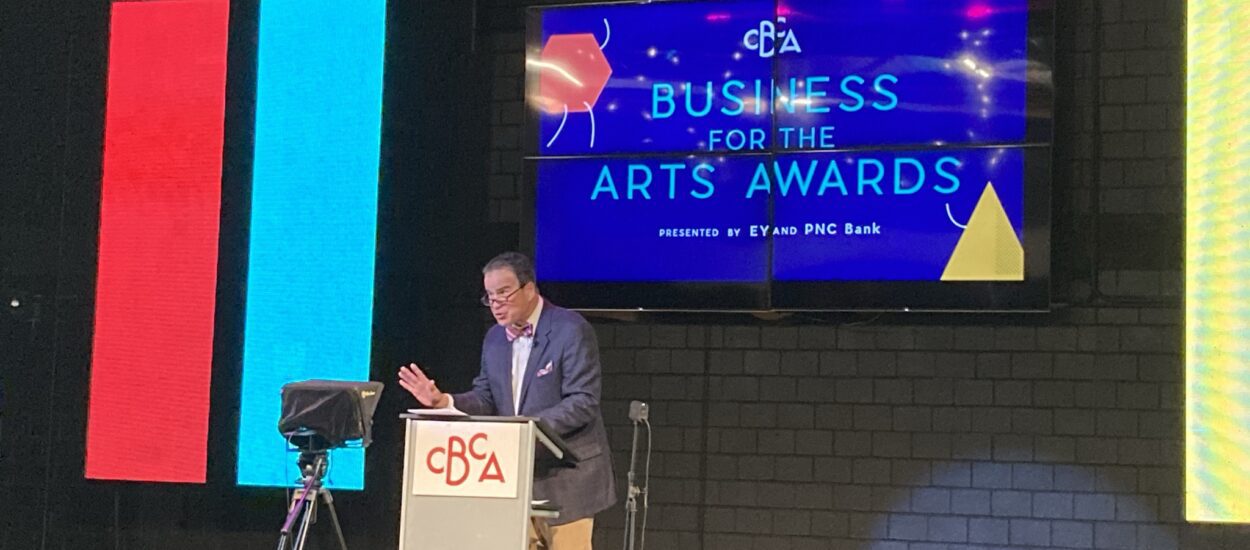 Over 300 corporate, cultural and civic leaders celebrated 12 honorees at the 2021 Colorado Business Committee for the Arts' (CBCA) Business for the Arts Awards, the only statewide event honoring companies and individuals for their exemplary engagement with the arts.
All honorees were celebrated at the annual Business for the Arts Awards luncheon, presented by EY and PNC Bank, on Tuesday, March 9, 2021 live-streamed from the People's Building in Aurora.  There was an opportunity for networking in breakout rooms in Zoom before the live-streamed program on YouTube. Founded in 1985, CBCA has been producing this inspiring, arts-infused event for 34 years, featuring exemplary honorees and a variety of home-grown entertainers and Colorado artists. CBCA has honored over 180 companies and individuals in that time.
Entertainment at this year's event included a combination of live and pre-recorded performances. The event opened and closed with a live percussion performance featuring Ascend Performing Arts and a member of their award-winning Blue Knights Percussion Ensemble. The emcee, Jim Benemann from CBS4, participated in a few comical scenes with actors from Benchmark Theatre – perhaps they didn't know it was a "virtual" celebration? The pre-recorded performances were filmed on location with some of the award honorees. NU-World Contemporary Danse Theatre choreographed and performed two contrasting dance numbers at Pizzeria Locale in the Central Park neighborhood. The Rajdulari Experience, featuring Jazz/Soul vocalist Rajdulari and her band of local performers, performed a moving original song and spoke word piece at RedLine Contemporary Arts Center.
"We are thrilled to recognize these outstanding individuals and organizations for their inspiring and innovative business and arts partnerships. This past year has been like no other, and their stories demonstrate how art is essential to our lives, strengthens our communities, and smart for business," said Chris Ross, Chair of CBCA's Board of Directors, and Vice President, Commercial Banking Relationship Manager at U.S. Bank.
The 2021 Business for the Arts Awards Honorees
The Business for the Arts Awards Honorees are exemplary organizations that have gone above and beyond to support the arts and creative industries.
PNC Bank Cultural Leadership Award
The PNC Bank Cultural Leadership Award recognizes an outstanding graduate of CBCA's Leadership Arts program who has made an impact on arts and culture in Colorado.
 Michael Sattler, Executive Director of Rocky Mountain Arts Association, is a true arts champion even in the face of uncertainty leading his 2020 Leadership Arts class to raise a record-breaking amount of scholarship funds while steering the growth of his own organization comprising Denver Gay Men's Chorus and Denver Women's Chorus.
Volunteer Attorney Impact Award
The Volunteer Attorney Impact Award recognizes an outstanding lawyer who has provided pro bono legal services to Colorado creatives and advanced CBCA's Colorado Attorneys for the Arts (CAFTA) program.
Shirin Chahal, Associate Attorney at Law Offices of Daniel T. Goodwin, has transformed a lifelong passion for arts and music into a legal practice that supports the creative industries, including pro bono assistance through CAFTA and civic leadership positions.
EY Next Wave Leadership Award
The EY Next Wave Leadership Award honors rising professionals who are leading the future of our cultural community.
Jose "Chepe" Rosales, Founder and Artistic Director of ArtistiCO, is a trailblazing leader and professional Mexican folklórico dancer with an entrepreneurial spirit who is innovating new ways to advance arts and culture across heritages, generations, borders and technology.
John Madden, Jr. Leadership Award
Named for CBCA's founding chairman, the John Madden, Jr. Leadership Award recognizes a lifetime of extraordinary leadership and a legacy of support for the arts.
Jeanette Trujillo-Lucero, Founder and Artistic Director of Fiesta Colorado Dance Company, is a pillar in Colorado's arts community and has been a tireless performer, educator, mentor and catalyst for the Latino arts for over 40 years.
Honorees received a custom bronze sculpture for their award by Denver artist, Yoshitomo Saito. The 2021 Business for the Arts Awards Honorees, PNC Cultural Leadership Award Honoree, EY Next Wave Leadership Award Honoree and the John Madden, Jr. Leadership Award Honoree were selected by an independent panel of arts, business and community leaders. The Volunteer Attorney Impact Award was selected by the CAFTA Advisory Committee.
All of the honoree videos are available on CBCA's YouTube Channel and more information about the honorees, entertainment, sponsors and partners is on the digital event program.
CBCA thanks our generous sponsors who make this awards program and event possible. Presenting Sponsors are EY and PNC Bank. HealthONE is the Awards Artwork Underwriter, Entertainment Underwriter is Moye White, Technology Underwriter is Xcel Energy, and the Lunch & Networking Reception Underwriter is Bellco Credit Union. In-kind and media partners are CBS4, ColoradoBiz, and Moxtopia