CBCA Celebrates 12 Honorees at 2022 Business for the Arts Awards Luncheon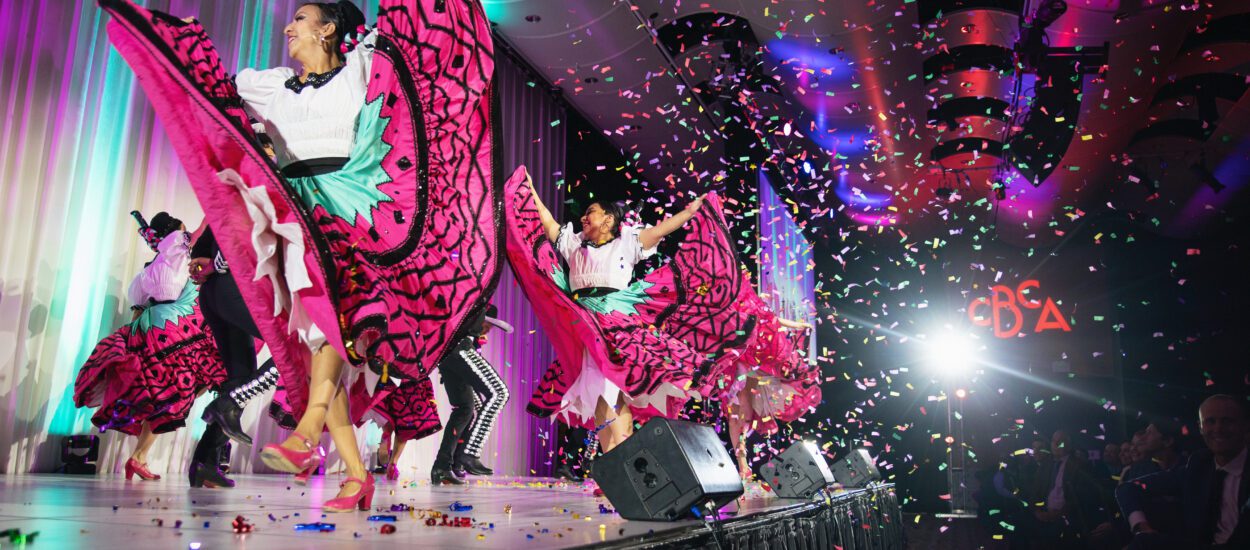 600 Attend Dynamic Event Featuring Diverse Local Entertainment and Artists
Colorado Business Committee for the Arts (CBCA) celebrated 12 honorees at its 2022 Business for the Arts Awards, presented by EY and PNC Bank, which was attended by 600 corporate, cultural and civic leaders at the Seawell Grand Ballroom at the Denver Performing Arts Complex, as well as livestreamed to attendees around the state. CBCA's largest annual fundraiser and celebration, the Awards luncheon is the only statewide event honoring companies and individuals for their outstanding partnerships and engagement with the arts.
CBCA received a record number of nominations this year, and the 2022 honorees were selected by an independent panel of judges. Founded in 1985, CBCA has been producing this inspiring, arts-infused event for 35 years, featuring exemplary honorees and a variety of homegrown entertainers and Colorado artists. CBCA has honored nearly 200 companies and individuals in that time.
"We are thrilled to recognize these outstanding individuals and organizations for their inspiring and innovative business and arts partnerships. Their stories demonstrate the agility of the arts and creative industries sector, and how art is essential to our lives and strengthens our communities," said Dustin Whistler, Chair of CBCA's Board of Directors, and Founder & Principal, Forte Commercial Real Estate.
The main Awards luncheon program, emceed by CBS4 Anchorman and award-winning Journalist Jim Benemann, was punctuated with four live performances, underwritten by Moye White. The program opened with spoken word artist, Assétou Xango, a poet, coach, community activist and former Poet Laureate of Aurora. Local indie band, Ramakhandra, provided an out-of-this-world sonic experience featuring a harpist, bassist, Atari synth player, drummer and vocalist. Boulder-based Local Theater Company premiered an excerpt from a new musical, "Say My Name," with Book & Direction by Pang Yuan Yuan and Music and Lyrics by David Nehls. The Awards luncheon closed with an energetic Mexican folklorico dance performance from ArtistiCO, a nonprofit uplifting Denver's local Latin culture.
Prior to the event, guests mingled at a networking reception, underwritten by Xcel Energy, featuring an immersive dance, theater and artistic experience provided by Fort Collins-based LuneAseas. Honorees and sponsors attended a VIP Reception, underwritten by East West Partners, with live music from jazz musician Camilla Vaitaitis at Prelude + Post. The original Award Artwork presented to each of the honorees was commissioned from Wheat Ridge sculpture artist Kevin Robb and underwritten by HealthONE. Each of the table centerpieces were handcrafted by students from MSU Denver's Center for Visual Art, which were unique upcycled artworks, underwritten by Bellco Credit Union.
2022 Arts & Business Partnership Award Honorees
The Arts & Business Partnership Award honorees are exemplary organizations that have gone above and beyond to support the arts and creative industries.
EY Next Wave Leadership Award
The EY Next Wave Leadership Award honors rising professionals who are leading the future of our cultural community.
Tara Rynders, Registered Nurse, Artistic Director and Founder of You & Me and The Clinic, is harnessing the power of dance to combat compassion fatigue and build resiliency for healthcare workers through immersive performances and art-based workshops.
PNC Bank Cultural Leadership Award
The PNC Bank Cultural Leadership Award recognizes an outstanding graduate of CBCA's Leadership Arts program who has made an impact on arts and culture in Colorado.
Roopesh Aggarwal, Senior Director – Business Innovation at Xcel Energy, joined the Board of Central City Opera after graduating from Leadership Arts in 2016 and has provided extraordinary leadership, guidance and vision as Board President and now Co-Chairman during a transformative time for the organization.
Volunteer Attorney Impact Award
The Volunteer Attorney Impact Award recognizes an outstanding attorney who has provided pro bono legal services to Colorado creatives and advanced CBCA's Colorado Attorneys for the Arts (CAFTA) program.
Dave Rein, Attorney at Erickson Kernell IP, is an advocate for the arts through his pro bono legal service and education with CAFTA, as well as volunteer roles with 40 West Arts, Jefferson County Cultural Council and Mi Casa Resource Center.
John Madden, Jr. Leadership Award
Named for CBCA's founding chairman, the John Madden, Jr. Leadership Award recognizes a lifetime of extraordinary leadership and a legacy of support for the arts.
Richard Carter is a renowned artist and activist and has been spearheading creative development in the Roaring Fork Valley since the 1970s, including founding the Aspen Art Museum and supporting Anderson Ranch Art Center, Art Base and the new The Arts Campus at Willits (TACAW) in Basalt.
"We thank all of the inspiring honorees and arts performers at today's 35th anniversary Awards luncheon. The 2022 Business for the Arts Awards illustrate the mutual benefits when arts and business collaborate," said Christin Crampton Day, CBCA executive director.
In addition to celebrating the 2022 Business for the Arts Award honorees, CBCA recognized Colorado State Representative Leslie Herod for receiving the 2021 Public Leadership in the Arts Award during this event. Representative Herod was presented with this Award by Americans for the Arts and National Conference of State Legislatures.
CBCA thanks our generous sponsors who make this award celebration possible. The Business for the Arts Awards are presented by EY and PNC Bank. Generous support is also provided by HealthONE, Moye White, East West Partners, Xcel Energy and Bellco Credit Union, In-kind and media partners are CBS4, ColoradoBiz, Moxtopia, Occasions Catering and The Publishing House.