CBCA Applauds 12 Honorees at Sold-Out Business for the Arts Awards Luncheon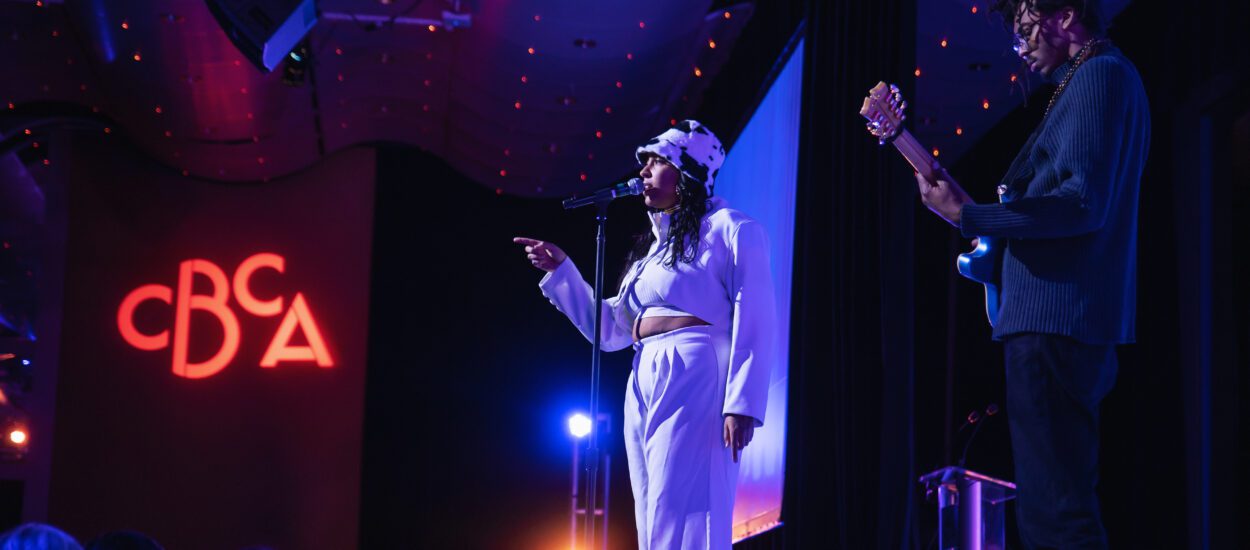 700 Attend Dynamic Event Featuring Diverse Local Entertainment and Artists
Denver – Colorado Business Committee for the Arts (CBCA) recognized 12 honorees at its 2023 Business for the Arts Awards, presented by EY and PNC Bank. This sold-out event was attended by 700 corporate, cultural and civic leaders at the Seawell Ballroom, Denver Center for the Performing Arts, as well as livestreamed to attendees. CBCA's largest annual fundraiser and celebration, the Awards luncheon is the only statewide event honoring companies and individuals for their outstanding partnerships and engagement with the arts.
Founded in 1985, CBCA has been producing this inspiring, arts-infused event for 35 years, featuring exemplary honorees and a variety of homegrown entertainers and Colorado artists. CBCA has honored over 200 companies and individuals in that time.
"It was wonderful to be back with another sold-out Awards luncheon," said Dustin Whistler, CBCA Board Chair and Founder & Principal, Forte Commercial Real Estate. "This year's honorees truly demonstrated the impact of CBCA's mission and how arts and business partnerships can foster innovation, inclusion and economic growth."
The Awards luncheon program was emceed by CBS4 Anchorman and award-winning Journalist Jim Benemann, who has emceed this event for over a decade and retires later this month. The program was punctuated with four diverse live performances featuring Colorado-based artists, sponsored by Moye White. The program kicked off with a moving performance by Denver singer, songwriter and performance artist Kayla Marque. Leela Dance Collective, an international touring dance company, performed the North Indian dance form kathak. The Boulder Bassoon Quartet showcased a range of musical genres and Wild Heart Dance closed out the event with a riveting contemporary dance piece.
Prior to the event, guests mingled at a networking reception, sponsored by Xcel Energy, featuring music from Denver-Boulder area singers and instrumentalists, Planina: Songs of Eastern Europe. Honorees and sponsors attended a VIP Reception, sponsored by Anythink Libraries, with live music from singer, songwriter and musician Casino Perosi at Prelude + Post. The original Award Artwork presented to each honoree was commissioned from interdisciplinary artist Autumn T. Thomas, and sponsored by HealthONE. Each of the illuminated mixed media table centerpieces were crafted by the Art Students League of Denver, and sponsored by Bellco Credit Union.
2023 Arts & Business Partnership Award Honorees
The Arts & Business Partnership Award honorees are exemplary organizations that have gone above and beyond to support the arts and creative industries.
EY Next Wave Leadership Award
The EY Next Wave Leadership Award honors rising professionals who are leading the future of our cultural community.
Ashley Cornelius, LPC, RESTORE Program Manager, Denver Health is a passionate advocate for mental health, empowerment and racial equity. A licensed counselor and Pikes Peak Region Poet Laureate, Cornelius is committed to using poetry as a platform to speak up and out for marginalized groups and be a voice for those who have been silenced.
PNC Bank Cultural Leadership Award
The PNC Bank Cultural Leadership Award recognizes an outstanding graduate of CBCA's Leadership Arts program who has made an impact on arts and culture in Colorado.
Deborah Malden, Co-Founder/Board Member, Create Boulder and Arts Liaison & Advisor, Boulder Chamber has been advocating for the arts since graduating from Leadership Arts in 2013. Malden's leadership service includes 3rd Law Dance/Theater, SCFD Board of Directors, Create Boulder, Boulder Chamber, CBCA's Colorado Cultural Champions and more.
Volunteer Attorney Impact Award
The Volunteer Attorney Impact Award recognizes an outstanding attorney who has provided pro bono legal services to Colorado creatives and advanced CBCA's Colorado Attorneys for the Arts (CAFTA) program.
Brian Hanning, Attorney, Hanning Law Limited has been an active volunteer with Colorado Attorneys for the Arts (CAFTA) since 2017, helping numerous artists and creative entrepreneurs with their legal needs, answering questions on CAFTA consultation clinics, and advocating for startup and small business support in Northern Colorado.
John Madden, Jr. Leadership Award
Named for CBCA's founding chairman, the John Madden, Jr. Leadership Award recognizes a lifetime of extraordinary leadership and a legacy of support for the arts.
Merle Chambers, business person and co-founder, Kirkland Museum of Fine & Decorative Art is a pioneer of women's leadership and philanthropy, supporting significant capital projects at several museums, performance venues and cultural institutions. Chambers was recently appointed by U.S. President Joseph R. Biden, Jr. to the President's Advisory Committee on the Arts (PACA).
CBCA thanks our generous sponsors who make this event possible. The Business for the Arts Awards are presented by EY and PNC Bank. Generous support is also provided by HealthONE, Bellco Credit Union, Moye White, Xcel Energy and Anythink Libraries. In-kind and media partners are CBS4, ColoradoBiz Magazine, Denver Business Journal, Ligature Creative, Moxtopia, and The Publishing House.
Colorado Business Committee for the Arts (CBCA) advances Colorado's creative economy by connecting business and the arts through arts engagement, advocacy, training, research, and volunteerism. CBCA is a 38-year-old 501c3 nonprofit membership organization of leading Colorado companies who recognize the link between cultural vitality and economic success. Learn more at www.cbca.org.