Arts + Impact Investing Forum Recap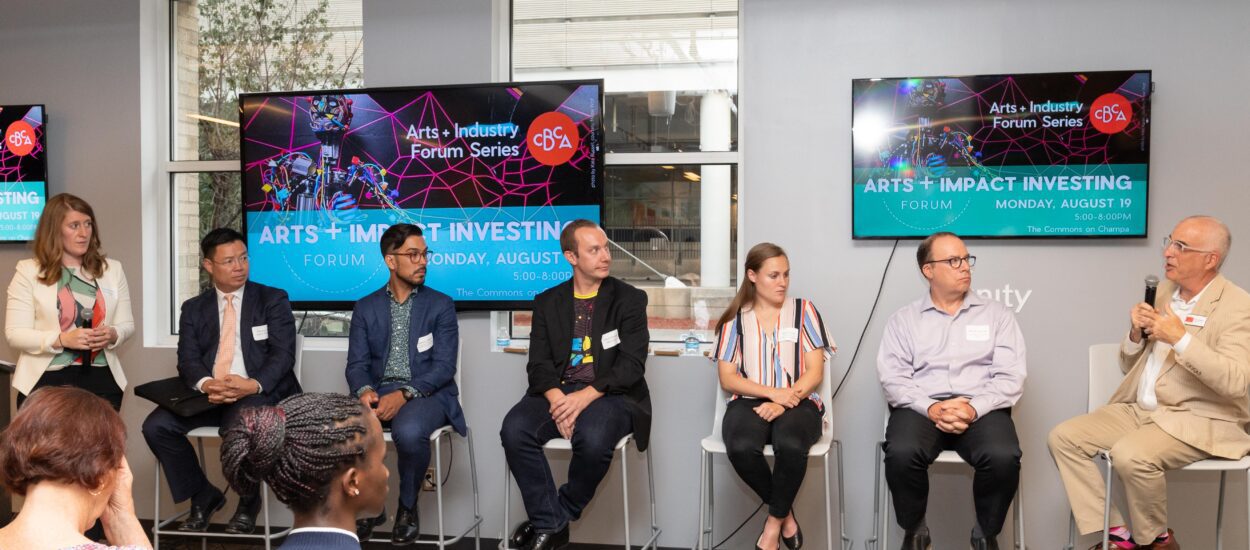 Civic engagement and community education were common themes at CBCA's Arts + Impact Investing Forum on Monday, August 19 at the Commons on Champa.
Attended by 100 people, the Arts + Impact Investing Forum was part of CBCA's quarterly Arts + Industry Forum Series. Each forum in the series explores the unique intersection between the arts and a specific business sector significant to Colorado's economy.
Expert speakers discussed why and how the field of impact investing should be looking at the creative sector when exploring investment options. There is ripe opportunity to seize on this trend of investing with a #CreativityLens (as advocated by UpStart Co-Lab), which can yield both powerful social and fiscal returns.
Forum speakers were: Phil Kirshman, Chief Investment Officer, Cornerstone Capital Group; Chuong Le, Partner, Snell & Wilmer, Thadeaous Mighell, Curator at Understudy Arts Incubator Space and an Independent Community Outreach Program Consultant; Jana Persky, Opportunity Zone Program Director, Colorado Office of Economic Development; Chris Scharrer, Senior Financial Analyst, Meow Wolf; and Gary Steuer, President and CEO, Bonfils-Stanton Foundation. Emily Winslow, Senior Manager of Investments and Impact Opportunities at Social Venture Circle, moderated the panel conversation and provided an opening presentation to set the stage.
As part of his introduction, Kirshman compared investing to voting. It's a way to empower people to act on their values and participate in the betterment of our society. Cornerstone Capital Group published a report in October 2018 on the emerging theme of arts and creativity in impact investing.
Mighell echoed the sentiment about community engagement and spoke about his work with BuCu West in Denver's Westwood neighborhood. He highlighted the importance of hearing from local citizens about their needs and wishes, and to inform development decisions.
Persky further encouraged residents, including those in the arts, to get involved and have a say in revitalization projects in Opportunity Zones. This point is particularly true in rural Colorado, where the creative industries are often leading economic development strategies within their communities. Enacted as part of the 2017 tax reform package, "opportunity zone is a federal tax incentive for investors to invest in low-income urban and rural communities through the favorable treatment of reinvested capital gains and forgiveness of tax on new capital gains" (Colorado Office of Economic Development and International Trade).
Scharrer mentioned that Meow Wolf is also a B-Corporation. With that B-Corp status, Meow Wolf demonstrates their corporate commitment to the highest standards of social and environmental business practices. He also encouraged consumers to seek out B-Corps and support their social causes with your patronage. Once again, an intentional investment, no matter how small, is a powerful act.
There is still a lot of education needed to help investors and funders better understand the creative sector and develop formal tools to facilitate their investments. Winslow told the story of being in a room of investors when Meow Wolf was getting started and seeing their blank and confused stares. She said they didn't know what to make of this unique investment opportunity as the standard tools for assessing risk and valuation didn't apply.
Steuer talked about mounting interest in pooled capital to support creative enterprises in Colorado. He mentioned the newly launched NYC Inclusive Creative Economy Fund from LISC. This exciting new LISC fund is "an opportunity for accredited investors to invest in New York City's affordable, inclusive creative work spaces, fostering 21st Century quality jobs for low- and moderate-income New Yorkers." But what about Colorado?
As the evening went on, speakers and audience members also touched on creative business models, intersectionality in arts organizations (arts and…) and the need to match the right type of capital to the right type of project. Following the panel, attendees formed small breakout groups or chatted with new connections.
To support this emerging trend of impact investing in creative enterprises, we need more creatives participating in community development conversations, more education for investors on innovative artistic business models, and more awareness and appreciation for the wide-ranging social benefits of the creative sector.
The 2019 Arts + Industry Forum Series is sponsored by College of Arts & Media at CU Denver, Denver Business Journal and Footers Catering. The Arts + Impact Investing Forum was sponsored by Bonfils-Stanton Foundation and RBC Wealth Management, with support from Colorado Association of Funders.