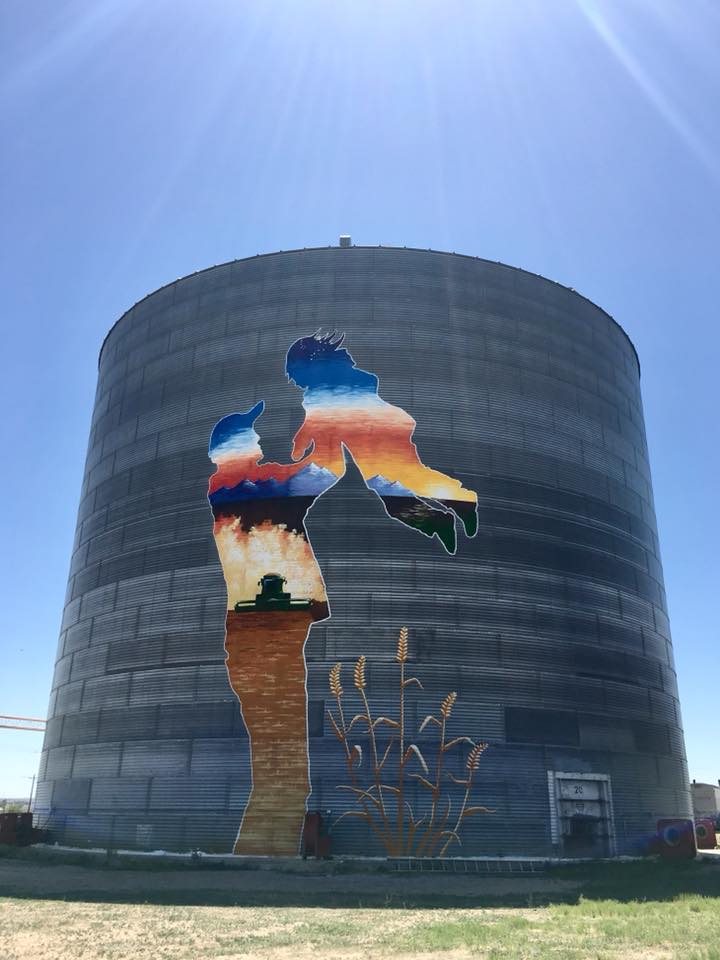 The Arts + Agriculture Forum will explore how the arts and the agricultural sector can work together for advocacy and economic development. Through this intersection, we can elevate shared values, engage with challenging issues, steward investment, tell important stories and strengthen community vitality.
This virtual event will include an interactive panel discussion, small group breakouts and networking. The event will kick-off with a live musical performance from Denver's vegan eco hip-hop artist, DJ Cavem.
Panelists:
Moderator: Grace Hanover, Associate Director of Programming at the National Western Center
Kate Greenberg
Commissioner, Colorado Department of Agriculture
Kate Greenberg has served as Colorado's Commissioner of Agriculture since 2018. Prior to her appointment, Greenberg was the Western Program Director for the National Young Farmers Coalition, where she established and grew the organization's presence and membership across the West. Greenberg has farmed on operations across the West, managed Western policy field programs through Whitman College, and worked in natural resource education and restoration from eastern Washington to Mexico's Colorado River Delta. She was involved in the development of the Colorado Water Plan and Colorado River Basin water policy and is a graduate of Water Education Colorado's Water Leaders flagship course. While she currently spends much of her time traveling the state, Durango, Colorado is home.
Audrey Sayles
Co-Founder, Some Girls and a Mural
Audrey Sayles is an artist and co-owner of the mural company Some Girls and a Mural. Along with her cousins, Audrey is on a mission to "Paint the Plains" to tell the story of rural Colorado.
Growing up in a small town never held her back from following her dreams. After going to college on a basketball scholarship, she left for Virginia where Audrey pursued a degree in teaching. She traveled abroad, loved the East Coast, but her heart always drew her back home to Colorado where she teaches K-12 P.E. and recently completed her masters in education. Her chosen profession has allowed her to devote herself to her art, her lifelong passion.
Outside of education and painting, Audrey loves working on her home, golfing, and photography. You can also find her harvesting for her dad and spending time with her family, especially her grandparents and nieces and nephews. She can be reached on Facebook and through somegirlsandamural@gmail.com
ABOUT SOME GIRLS AND A MURAL
Audrey Sayles, Kayla Ravenkamp and Staci Beauford make up the group of mural artists known as Some Girls and a Mural. They spent their childhood alongside their grandparents and parents as they worked to earn a living from the land, and it made these women believe they could undertake a 60 ft tall mural on a grain bin for their first project, "Heart of Harvest".
The buzz on social media from that first mural with 129k views and 5k likes in 24 hours showed the need for art in their rural communities and the agriculture community at large. Coverage from "Next with Kyle Clark", "The Denver Channel", Successful Farming, The Fencepost, High Plains Guide, Limon Leader and Eastern Colorado Plainsman has amazed these small town ladies. The support and imagination of the locals keeps plenty of unique canvases under their brushes. Since 2018, the group has been asked to paint over 17 different works of art ranging in size from a large wind turbine blade to a small book return at the library.
The dream at the heart of the company is to tell the story of the Eastern Plains of Colorado on the canvas of the white grain elevators that guide travelers on I-70 to the Rocky Mountains. They call their dream "Paint the Plains".
Richard Saxton
artist, designer and educator with M12Studio and CU Boulder
Richard Saxton is a visual artist and educator whose work focuses primarily on rural knowledge and landscape. Saxton's work is conceived through an interdisciplinary cultural framework and can be contextualized through social and site-based art practice. Saxton's work has been described as contemporary vernacular, non-heroic, and an art infused with rural experience without subscribing to any one genre or culture. Saxton is the founder and director of M12 STUDIO, an interdisciplinary group that creates and supports new modes of art making in often rural and remote areas. The studio focuses on experiential practices that explore community identity and the value of often under represented rural communities and their surrounding landscapes.
Saxton is the co-editor of The Center Pivot Library (Last Chance Press, 2018) and A Decade of Country Hits: Art on the Rural Frontier (Jap Sam Books, 2014) and as a creative practitioner has worked both regionally and internationally. Recent exhibitions and commissioned works have appeared at the Corcoran Gallery and School of Art, Washington, D.C.; Sala Diaz in San Antonio, Texas; The Santa Fe Art Institute; The Des Moines Public Art Foundation; The Center for Contemporary Arts, Santa Fe, The 13th International Venice Architecture Biennale; The Kalmar Konstmuseum in Sweden; Franklin Street Works; Wormfarm Institute; The 2011 Australian Biennial (SPACED); The 2010 Biennial of the Americas; The Center for Land Use Interpretation; The Kohler Arts Center; The Contemporary Museum in Baltimore; Wall House #2 in the Netherlands, and The Irish Museum of Modern Art in Dublin. Saxton and M12 are the recipients of numerous awards including those from the National Endowment for the Arts and the Andy Warhol Foundation for the Visual Arts.
Harrison Topp
Owner/Operator of Topp Fruits and Director of Membership for Rocky Mountain Farmer's Union
Harrison Topp is the Director of Membership with the Rocky Mountain Farmers Union where he helps build the capacity of volunteer chapters and increase organizational membership. Harrison is also the owner operator of Topp Fruits, a family orchard business growing high altitude, exquisitely pleasurable fruit in Western Colorado. By straddling the worlds of commercial production, advocacy, and community organization, Harrison engages with the full gamut of agriculture to understand its strengths, weakness, threats, and opportunities. He has received awards from LiveWell CO, the Mt. Lookout Grange, and National Farmers Union. Harrison Graduated from New York University with a Bachelor of Fine Arts in Film/TV Production and Anthropology.
Chef Ietef "DJ Cavem" Vita, PhD
When DJ Cavem coined the term eco-hip hop in 2007, he didn't know it would sprout into a global movement. His mission to rap about climate change, food justice and plant-based foods spread far beyond his Denver hometown. Having performed at the Obama White House and been featured in Oprah Magazine and on the Rachael Ray Show, Dr. Ietef "DJ Cavem" Vita became known as more than just a rapper — but an activist, educator and vegan chef. Now, several years after the release of The Produce Section, his award-winning album that fused hip hop with lessons on eco-friendliness, Cavem has shifted his focus to new material. His latest project BIOMIMICZ is being released as an album/seed pack to get people involved and spur listeners into action.
"I wanted this album to become an experience," he explained. "I want people to understand that one of the best ways to make an impact on the environment is being more conscious of what we eat and understanding that our everyday food choices impact the environment in a positive or negative way."
From an early age Cavem has had a deep connection to environmental activism and food justice. Raised in Denver's Five Points district, often referred to as the Harlem of the West, his interest for gardening and hip hop helped him resist the snares of gang lifestyle. Becoming vegan at age 14, he said he felt a calling to speak about these issues in his songs, "especially since most of the neighborhoods considered food deserts were people of color." His 2007 debut single "Wheatgrass" with rapper Stic.Man of Dead Prez hit top ten on the charts in Spain and introduced him to the public as an OG (Organic Gardener). It led to his 2010 debut album The Teacher's Lounge, followed by 2012's The Produce Section, which featured collaborations with Speech from Arrested Development, Drummi Zeb from The Wailers, and Sa-Roc. Part album, part curriculum, The Produce Section offered lessons on organic gardening, plant-based recipes and alternate uses of energy.
Since then Cavem has traveled the world as both a performing artist and an educator. He's shared the stage with Nick Jonas, Public Enemy, 2 Chains, Questlove, Wyclef Jean, among others. Offstage he's involved with numerous organizations and projects dedicated to promoting wellness, eating healthy and environmental awareness. With his wife and collaborator Arasia "Alkemia" Earth, the pair inspire and educate around the world including communities in countries such as Azerbaijan through workshops and speaking engagements. They formed a non-profit organization called the Vita Earth Foundation, which hosts health and wellness summer camps, Culinary Concerts, and their Recipes for Resistance workshops, which focuses on culinary climate action.
Traveling the globe has given Cavem a fresh perspective with BIOMIMICZ. Released during International Compost Week, the EP is a precursor to a full-length album. It's being issued as a seed pack — kale, arugula and beets — to be planted right away. Come harvest, the full-length album will be packed with recipes on how to prepare meals with those vegetables. According to Cavem, BIOMIMICZ is about getting back to basics with a sense of urgency.
"Factory farms have destroyed the Amazon rainforest. Pesticides and herbicides have destroyed our soil and microorganisms and contaminated our water. Our oceans are becoming acidic and we are losing the coral reefs. I hope my lyrics will inspire and educate. And I hope the seeds will be planted, literally."