CBCA Welcomes Four New Board Members
CBCA is proud to announce the election of four new members to the 2019 Board of Directors: Jessica Alizadeh, Rachel Basye, William P. Marino and Ellen Sandberg.
Jessica Alizadeh
Attorney, Fairfield and Woods
Jessica Alizadeh is an attorney with Fairfield and Woods who practices in the areas of real estate development and governmental relations. She currently represents developers, investors, hemp manufacturers and local governments seeking quasi-judicial, legislative and regulatory approvals. Fluent in Spanish, conversational in Farsi and an avid lover of the arts, she serves on the board of the Mexican Cultural Center and continues to serve as a provenance expert for a travelling art collection. Jessica is a graduate of CBCA's Leadership Arts program.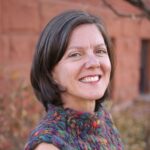 Rachel Basye
Executive Director, Arts Student League of Denver
Rachel Basye is the Executive Director at the Art Students League of Denver, an artistic community where people of all abilities are guided by professional artists to reach their highest potential. Basye is a practicing artist and a member of The Mix, an artists' collaborative in Denver's Art District on Santa Fe. She currently serves as an advisor for the newly formed Westwood Creative District in Denver's Westwood neighborhood and is co-chair of the Denver Commission for Cultural Affairs.
William P. Marino
Executive Director, Lakewood West Colfax Business Improvement District
William P. Marino is an entrepreneur, community organizer and public servant with 30+ years of communications, business strategies and entrepreneurial expertise. Currently the Executive Director for the Lakewood-West Colfax Business Improvement District and Board Chair of 40 West Arts, Marino works to help stimulate economic activity through community engagement, land use policy and the catalytic impact of the arts. He received CBCA's John Madden Jr. Leadership Award in 2015.
Ellen Sandberg
President and the Director of Client and Community Relations, PNC Bank
Ellen Sandberg is Vice President and the Director of Client and Community Relations at PNC Bank, where she connects PNC Bank and the PNC Foundation to organizations that promote early childhood education, arts and culture. Previously, she played key roles in international grant-making and has led employee giving campaigns that have raised millions of dollars for grant making and disaster relief efforts around the world. Over the last 15 years, Ellen has also represented her employers on the board of the Latin American Research and Service Agency.