CAFTA Volunteer Attorneys Make an Difference for Colorado Artists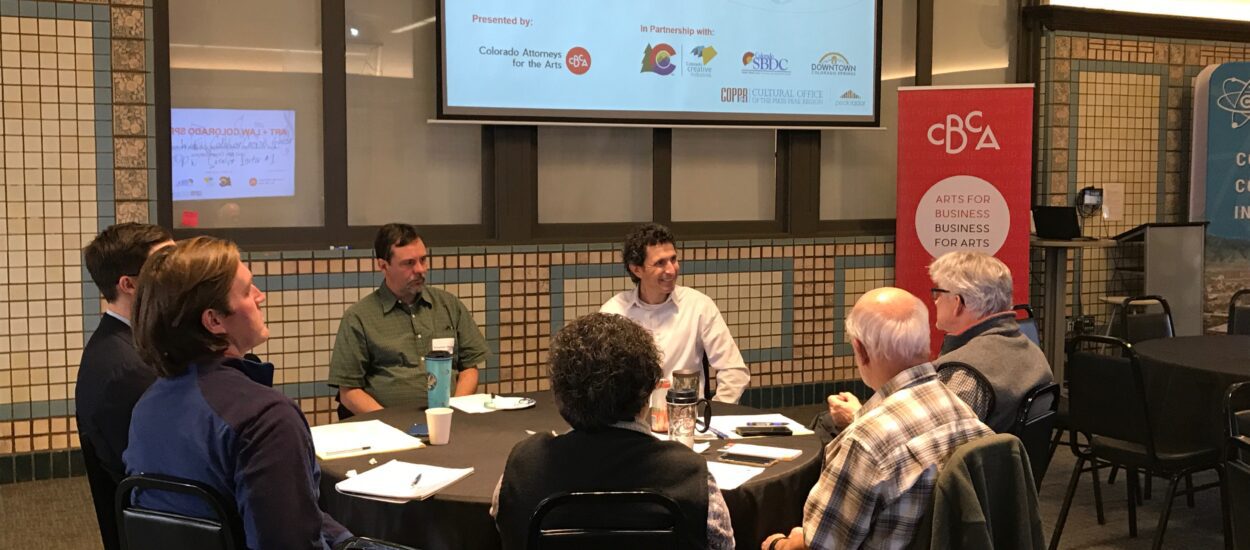 There are lots of ways that CBCA advances Colorado's creative economy by connecting arts and business. One of the most tangible examples is, simply put, connecting an artist with an attorney for pro bono legal help.
CBCA launched Colorado Attorneys for the Arts (CAFTA) in October 2015 to help artists, cultural organizations and creative businesses grow, sustain and protect their creative work. Legal issues in the arts can be complex and nuanced, and market-rate legal representation is unattainable for so many artists. CAFTA functions as "matchmaker," referring qualified artists to volunteer attorneys for pro bono help. In addition, CAFTA offers dozens of educational workshops and webinars on arts-related legal topics.
"Every single one of the clients I have worked with through CAFTA have been a joy. They are something I don't get to work with enough on a daily basis and I enjoy hearing about the goals and aspirations of these artists." - Brian Hanning, Hanning Law Ltd
Since CAFTA launched in 2015, this program has…
Made over 250 referrals connecting an artist or creative entity to a volunteer attorney
Provided over 100 educational presentations (in-person and virtually), including 10 full-day Art + Law Days in creative districts statewide
Reached over 2,000 people across Colorado through educational events, including CLEs for attorneys and free workshops for artists
About 120 volunteer attorneys currently registered with CAFTA. New volunteer attorneys are registering all the time
This impact would not be possible without the dedication of CAFTA's volunteer attorneys. They donate hundreds of hours of legal services to support Colorado's diverse artists. We are grateful for their continued participation, and we encourage more attorneys to get involved!
"CAFTA provides an excellent service to artists who may not otherwise have access to legal services. I was honored to participate in the program." - Emily McArthur, McArthur Law Firm
Check out the videos of past Volunteer Attorney Impact Award Honorees and hear why they are involved with CAFTA:
Join us in saying THANK YOU to all of CAFTA's volunteer attorneys for supporting Colorado's vibrant, diverse and vital creative sector.
"CAFTA connects me with very interesting clients and projects around the state, and it's a very rewarding experience to be able to help organizations and individuals who are doing important work in the Colorado arts world. When the work is complete, and I've helped the clients achieve their goals, the expressions of gratitude from the clients are like nothing I receive from any other clients." - Max Hass, Parlatore Law Group
CBCA also thanks Colorado Creative Industries, Denver Arts & Venues and Colorado Bar Foundation for their ongoing support of this program.