Nazi Looted Art: Recovering Masterpieces Stolen During the Holocaust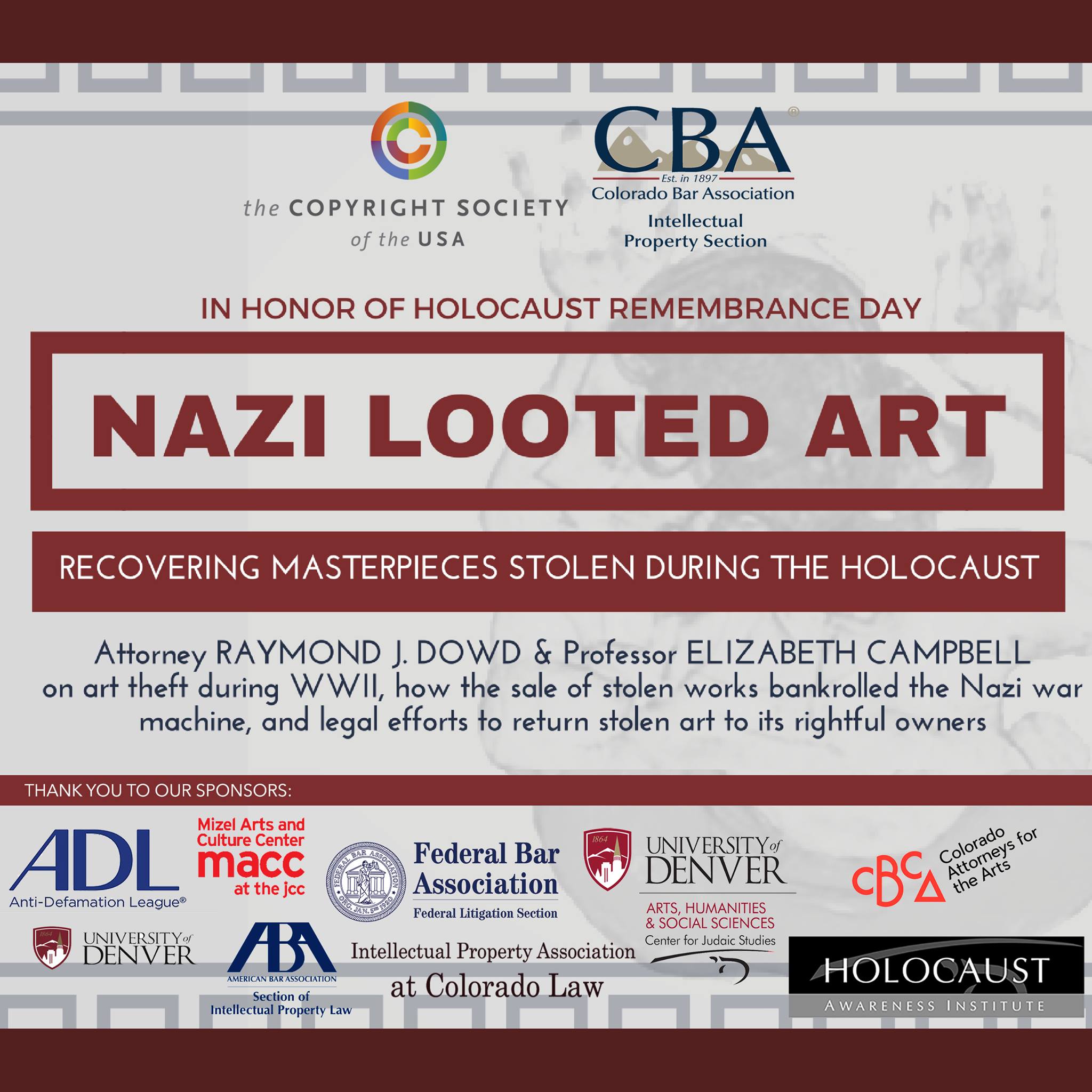 Join Raymond Dowd, an attorney specializing in copyright litigation and Nazi art looting, for an overview of art theft during WWII and a look at how the sale of stolen works bankrolled large parts of the Nazi war machine. By exploring past and ongoing cases, Mr. Dowd will discuss laws that were passed to address the looting, and will examine the extent to which those laws have been successful in securing the return of stolen art to its rightful owners.
Elizabeth Campbell is an Associate Professor of History at the University of Denver and Director of the Center for Art Collection Ethics. She is the author of Defending National Treasures: French Art and Heritage under Vichy (Stanford University Press, 2011). Professor Campbell is currently writing a book with support from the United States National Endowment for the Humanities on the recovery of art looted by the Nazis—often from Jewish owners—comparing restitution practices in France, Belgium and the Netherlands. In all three cases, the postwar governments held unclaimed works for display in state-run museums, setting the stage for controversy and cultural property disputes since the 1990s.
Raymond J. Dowd is a member of Dunnington Bartholow & Miller's litigation and arbitration, intellectual property and art law and international practice areas. He has served as lead counsel in high-stakes, high-profile litigations and arbitrations in New York for over two decades. His book Copyright Litigation Handbook (Thomson Reuters/Westlaw) has received critical acclaim. Acting as a fiduciary by serving on non-profit boards has shaped his practical problem-solving approach and perspective.
Business disputes form the core of Mr. Dowd's practice. He works with a lean, experienced team, including trusted experts, to contain, avoid, minimize, and settle disputes. Matters often involve foreign law and conflict-of-laws principles, service or discovery in foreign jurisdictions. Mr. Dowd regularly represents television broadcasters in disputes relating to brand protection and content distribution in the United States, particularly antipiracy work. Ground-breaking litigation to recover artworks lost during World War II has gained amicus curiae support from Holocaust survivors and heirs.
Mr. Dowd represents individuals, corporations, non-profits and governments in a wide range of matters. Trust and estates matters include contested probate proceedings through trial and disputes involving, trusts, heirship and decedents' estates. Contested matters include copyright and trademark disputes, shareholder actions, business dissolutions, contract disputes, licensing disputes and contested audits or accounting proceedings, including bench and jury trials, arbitrations and administrative proceedings, emergency applications for injunctive relief, quashing subpoenas, obtaining, enforcing and collecting judgments.
Mr. Dowd also assists individuals, art owners, dealers and corporations with trademark and transactional work, including international licensing and distribution. He lectures regularly on art law and copyright law. In 2006, he co-founded the annual day-long Art Litigation and Dispute Resolution Institute at New York County Lawyers' Association featuring the top judges and practitioners in art law.
Mr. Dowd has served as President of Network of Bar Leaders (2013-2014); General Counsel of the Federal Bar Association (2010-2011); FBA Vice President for the Second Circuit (2006-2012); FBA Board of Directors (2011-2016); The Federal Lawyer Magazine Editorial Board; FBA Government Relations Committee; FBA President of Southern District of New York Chapter (2006-2008); New York County Lawyers' Association Board of Directors (2003-2006); National Arts Club Second Vice President, Chair Audit Committee (2016-Present); Co-Chair of Fordham Law School's International Law Affinity Group (2016-Present); Village of Westhampton Beach Conservation Advisory Council (2014-Present).
Mr. Dowd is a member of the Copyright Society of the U.S.A.; New York State Bar Association, Commercial and Federal Litigation Section and Intellectual Property Law Section, Fellow, New York State Bar Foundation; Sustaining Lifetime Fellow, Foundation of the Federal Bar Association.
Mr. Dowd is admitted to practice law in New York State, the U.S. District Courts for the Southern and Eastern Districts of New York, U.S. Court of Appeals for the First, Second, Fifth, Ninth and Tenth Circuits, U.S. Supreme Court, U.S. Tax Court and U.S. Court of International Trade.
Mr. Dowd earned a Bachelor of Arts from Manhattan College in International Studies cum laude and a Juris Doctor from Fordham University School of Law, serving as Articles Editor for the Fordham International Law Journal. Mr. Dowd is fluent in French and Italian.
CO-HOSTED BY
Colorado Bar Association: Intellectual Property Section
The Copyright Society
Mizel Arts and Culture Center
SPONSORED BY
ADL – Anti-Defamation League
Colorado Law
CBCA Colorado Attorneys for the Arts
ABA – American Bar Association
University of Denver, Holocaust Awareness Institute
IP Student Association at Colorado Law
AND SPECIAL THANKS TO
Roenbaugh Schwalb LLC
Erickson Kernell IP
Daniel T. Goodwin Law Offices LLC