Copyright and Intellectual Property for Artists
Come learn the basics of copyright law with local arts attorney, Caroline Kert. Learn how to identify when someone may be infringing your rights, or when you're infringing theirs. We'll also examine fair use concepts and popular misconceptions about intellectual property. Caroline has her own law firm, Creative Legal, and is an active volunteer with Colorado Attorneys for the Arts.
This event series is produced in partnership between CBCA, Art Students League of Denver, Clyfford Still Museum and RedLine Contemporary Art Center. CBCA's participation supported by Ent Credit Union and Kenneth King Foundation. 
Artificial Intelligence closed captioning is available for all of our live virtual programs via Zoom. American Sign Language interpretation is available upon request with two weeks advance notice subject to the availability of interpreters. We will make every effort to accommodate requests outside of that time frame. For these or other accommodation requests, email Sonia Rae at deai@clyffordstillmuseum.org.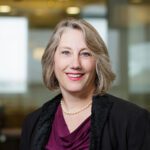 Caroline Kert
Attorney, Creative Legal
Caroline R. Kert is an attorney and a mediator. She champions artists and helps businesses in the creative industries protect their revenue streams, so they can focus on what they do best. She helps clients cut through the overwhelm to develop priorities and strategies that work for their specific business needs.
She counsels businesses, nonprofits, and emerging artists on all aspects of their business practices including entity formation, joint ventures, employment and independent consultant contract negotiation, employment law, intellectual property registration and licenses, risk management, collections, conflict resolution, and litigation. She also handles appeals to the federal and state court systems.
Ms. Kert has extensive experience governing nonprofit, environmental, government, and arts programs. She was appointed as Burning Man's regional contact for Boulder in 2016 and was named the Colorado Business Committee for the Arts' inaugural Volunteer Attorney of the Year in 2018.
When she is not in the office, Ms. Kert enjoys film, having worked on many student and professional sets and having attended the Colorado Film School for cinematography and directing. She also enjoys strategic games and poker.