Celebrate and Support CBCA's 35 Years
Triple-threat, Three Musketeers, Three Tenors. You get the point. Three is better than one! During the first three Thursdays in November, there are three "totally tubular" opportunities to celebrate and support CBCA's 35th anniversary with MIXTAPE – a series of fun, entertaining virtual arts + business experiences with an '80s vibe. Participation is free but registration is required.
35th Anniversary MIXTAPE Track #1 
November 5 | 4:00 – 5:00 PM
The opening night of CBCA's 35th anniversary celebration kicks off with visual art and conversation. We'll go inside painter, muralist and performer, Armando Silva's studio as he paints and discusses a piece that you can bid on in CBCA's online art auction. Armando will share what the theme of "rewind, fast forward and play" means to him and how this manifests in his work.
35th Anniversary MIXTAPE Track #2
November 12 | 4:00 – 5:30 PM
This is a night you don't want to miss with the premiere of CBCA's 35th anniversary video and a digital art experience where we'll go inside a virtual world created exclusively for CBCA. Kate Perdoni from Rocky Mountain Public Media will be our emcee for the evening, and she'll be interviewing Colorado artists commissioned to paint skateboard deck artworks that are featured in CBCA's silent art auction.
The second half of the evening will take place in Second Life, an online virtual world where you and your avatar will be able to socialize with other guests, bid on silent art auction items, order a B-52 or a Fuzzy Navel at the bar, and get down to some 80s music on the virtual dance floor.
35th Anniversary MIXTAPE Track #3
November 19 | 7:30 – 9:90 PM
We'll hear from CBCA friends about the organization's significant impact over 35 years engaging businesses and their employees in the arts, inspiring innovation and creativity and fostering a Colorado where people want to live, work and play, from 1985 to today. This will also be the final night to bid on items in the silent art auction!
The night will lead into a live 80s dance party hosted with DJ Rascer. You'll be able to request songs and dance the night away in your living rooms! Break out your best 80s garb because we'll be spotlighting dance parties and giving away prizes for best dressed.
---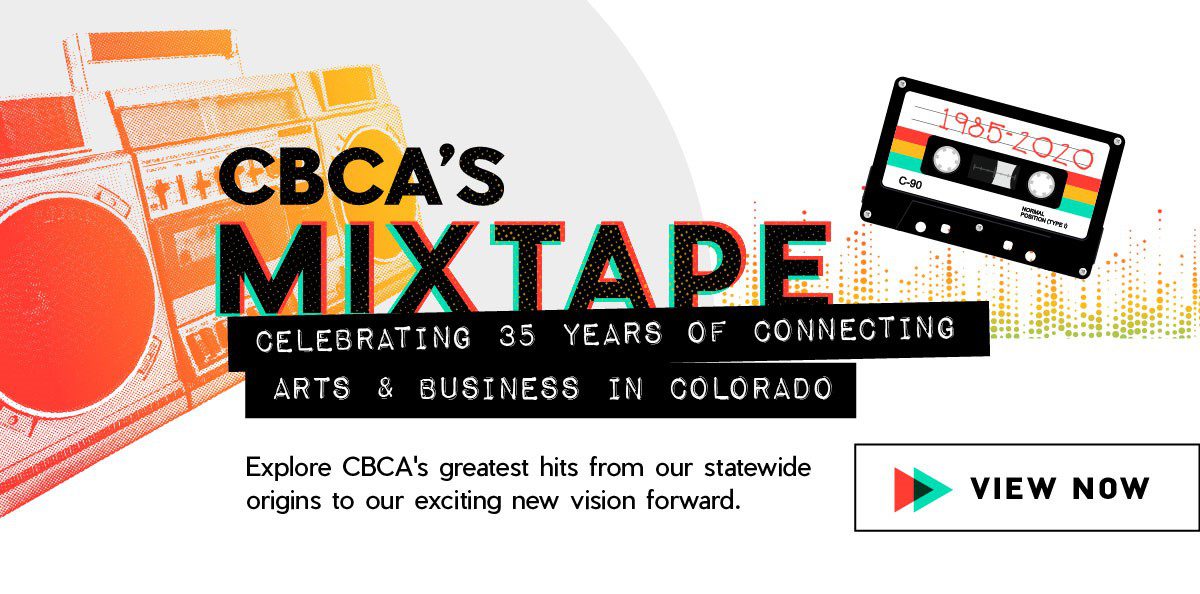 Explore CBCA's greatest hits from our statewide origins to our exciting new vision forward. Track the growth of arts and business connections in Colorado. Check out our 35th anniversary MIXTAPE infographic.
---

BE PART OF CBCA'S IMPACT
In the past 35 years, CBCA has:
Provided 20,000 complimentary tickets to arts experiences for CBCA members and their employees
Trained over 900 people to serve on the boards of cultural non-profit organizations (since 1997)
Released 13 research studies that validate the economic impact of arts and culture in the Denver metro region (since 1993)
Given 180 awards to businesses and individuals across Colorado for their innovative arts partnerships, generous philanthropy, and stellar leadership (since 1988)
Served 2,500 artists and cultural non-profit staff with professional development and business skills education including legal support on arts-related matters (since 2015)
With your support, we can continue delivering on our increasingly relevant mission to elevate the creative economy by connecting arts and business. Colorado's creative economy has been adversely impacted by the pandemic to the tune of billions in revenue and thousands of jobs lost. You can be a part of our solution! Help us help Colorado's arts and cultural sector recover, as we continue putting significant resources towards arts advocacy, research, training and arts engagement efforts.
Please consider a contribution to help CBCA reach its $35,000 fundraising goal at this critical time. Your gift will help ensure CBCA is around for 35 more years and beyond! With a donation of $350+ or a recurring monthly $35 contribution, you will receive a limited-edition print of an original Armando Silva artwork featured in CBCA's silent art auction.